Historically, brand managers have needed to rely on expensive and time-consuming research methodologies to make informed decisions. Thanks to agile, iterative insights, that's all changing.
In this blog post, I'll help you understand:
How brands save time and money with iterative insights, without sacrificing quality

Five useful ways brand managers can leverage iterative insights to deliver growth

How major real-world brands have used Iterative Insights to meet their business goals

In an ideal world, brand managers would spend their time leading cross-functional teams to deliver innovative products and marketing ideas that grow their brand. But in reality, they are often buried in fire drills which force them to make uninformed decisions in the face of unrealistic timelines, understaffed teams, and tight budgets.
To do more of what they love, brand managers like Heidi Woller of Organic Valley have to be innovative—not just with products and marketing campaigns, but also with the technology they use to inject speed, efficiency, and affordability into development processes.
In her case, Heidi believes that if her team could quickly engage and interact with their target consumer during the decision-making process, they would be more effective—meaning she could spend more time leading and less time putting out fires.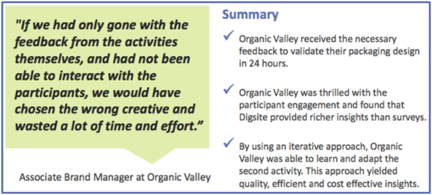 [Get the Full Organic Valley Case Study Here]
To accomplish that goal, she tapped into an agile, iterative insights platform called Digsite.
Digsite makes it much easier for Heidi's team to have a big impact as they move through the stages of the brand development process. The platform enables them to modernize their approach to development, sidestepping outdated methodologies on their way to achieving better results.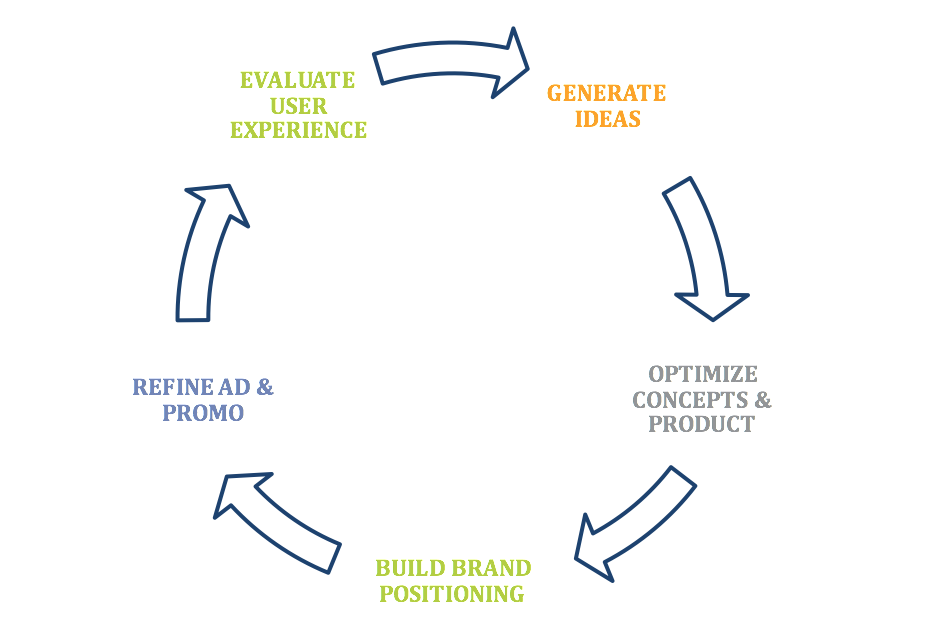 Let's look at each of the 5 specific ways that iterative insights drives innovation for branding teams.

One of a brand manager's top responsibilities is to generate innovative new products or line extensions. To meet these objectives, teams often hold ideation sessions where they try to match new trends with the needs of their target customers in order to come up with new ideas.
In the past, in order to get the voice of the consumer, brand managers could either conduct ethnographic research ahead of time or bring creative consumers directly into the ideation session—a process that was often cumbersome.

Agile insights tools, on the other hand, enable teams to streamline the approach considerably by gathering consumer insights, generating ideas, and iterating on them with consumers in one seamless and quick process.
For example, a popular tool brand recently used Digsite to gather a group of professionals who used hand tools. They wanted to learn specific on-the-job examples of pain points customers were experiencing with existing tools while hearing their suggestions on how those pain points could potentially be remedied. After observing the group and using insights to brainstorm solutions, the brand team generated a dozen new tool mock-ups, including some of the Digsite participants in the process. They also were able to take some ideas back to the group to kick off the optimization process. As a result, brands save time and money while getting stronger data.

Brand managers spend countless hours moving from early written concepts to production-ready products. Typically, consumer research is injected several times into this process. First, it appears at an early stage to help whittle down many ideas into a few. It also comes in at a later stage to validate concepts and products before they are ready to go to market.
Iterative insights allow teams to get feedback on early, or late-stage, concepts, understand their appeal relative to current solutions, and dig into the whys behind their answers.This approach gives the team access to more relevant data which enables them to make better-informed decisions. Sometimes, entirely new ideas are borne out of the process as consumers build their ideal solutions after being exposed to a variety of concepts.
For example, tera's whey used iterative insights to find out what healthy food products consumers wanted. Instead of releasing products and simply hoping they'd catch on, tera's was able to use data to find out exactly what their customers wanted, allowing for adjustments to their products in real time.

Brand managers know that they need to constantly evolve their brand to respond to consumers' changing needs and competitive innovation. Because brands ultimately fulfill emotional needs, the go-to technique for this type of research is to use projective techniques. From building collages to storytelling to benefit laddering, brand managers often rely on their research department or ad agency to design and conduct this kind of research.
Agile insights tools, however, can speed up this process considerably—while making it more affordable. What's more, using online tools improves the quality of this research, enabling more types of projective exercises while reducing the social desirability biases common with in-person research.

Recently, Dannon sought to launch its first national campaign for its Fruit on the Bottom line of yogurts in more than a decade. Traditionally, to help influence its decisions, the company would conduct in-person focus groups and use online surveys in a process that could take as long as six weeks. Instead of spending the time, money, and resources required under the old approach, Dannon decided to use Iterative Insights instead. This enabled them to quickly gauge consumer responses and make real-time adjustments to ensure their campaign was ultimately better received. As a result of the high-quality findings of their Sprint, Dannon could confidently speak to their consumers perceptions and better position its products in the marketplace. Some of the key brand personality traits that surfaced were: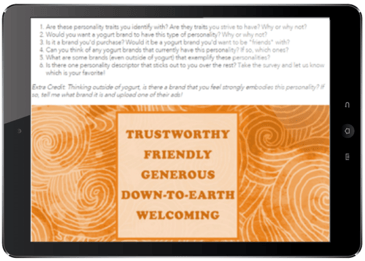 [Get the Full Dannon Case Study Here]

Brand managers know they need repeated exposure to consumers for their message to break through. Optimizing a range of communications—from ad campaigns to packages to in-store promotions—is a daily activity for most brand managers who are constantly trying to generate buzz for their products.
Once the strategy for a campaign has been established, the most common approach to testing ideas is called the communication check. The idea is you ask consumers what they took away from looking at that ad, package, or promotion to see whether those insights are on strategy.
But this step is often skipped due to time and budget constraints. With iterative insights, brand managers can get rapid feedback on campaigns in as little as 24 hours. Not only is the approach more cost-effective, it's also much faster.
For example, Palermo's Pizza was about to launch a premium product line and wanted to make sure it was well-received by its customers. Usually, the company would hold in-person focus groups across the country to get this data. But in this case, Palermo's only had two or three weeks to get insights from its national audience. So they turned to Iterative Insights. Problem solved. And here is an example of the quality and volume of feedback they were able to get in such a short time, with each comment represented as a positive/negative icon: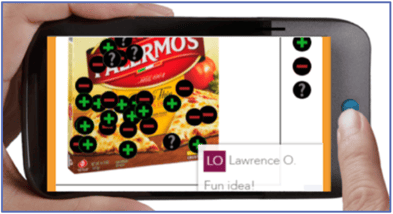 [Get the Full Palermo's Case Study Here]

There are plenty of reasons brand managers seek to evaluate user experiences—a major one for brand managers is related to retailers and in-store experiences.
Getting good retail distribution and placement can significantly impact the top line. Brand managers need to ensure that the products and promotions they develop fit with retailers' strategies and that consumers can rapidly understand the value proposition at the point of sale relative to the competition. They also need to prove to retailers that stocking and promoting their products will be beneficial.
Doing any kind of research in-store is incredibly expensive and complex. But agile, iterative insights tools enable marketers to have consumers capture and discuss in-store or in-home behavior without the logistics of getting a retailer's permission.
PD Holdings had developed two innovative drug delivery products that they planned to pitch to a major retailer. Prior to that presentation, the company wanted to provide evidence that its new products were a good fit for that retailers customer base of both Millennials and moms. There was one problem: They only had $10,000 to find that information. They found Digsite, and the rest was history with quick, high-quality insights like these: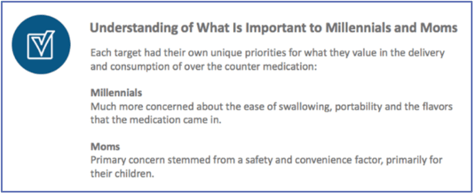 [Get the Full PD Holdings Case Study Here]

Iterative insights tools like Digsite are designed to work hand-in-hand with brand teams during the most active points in the innovation process. These technologies promise brand managers a number of benefits, including:
Brand managers can quickly and confidently prioritize which initiatives their teams will focus on—which sure beats spending time building out ads or products that will test poorly.
Iterative Insights help empower better team decisions. The technology generates excitement while avoiding the all too typical occurrence of deferring to the opinion of the highest paid person in the room.
With a better understanding of the context surrounding why consumers make specific decisions, teams have better judgment and need less supervision. They can be trusted to make the right decisions.
Iterative Insights creates a cost-effective approach. It drives down costs associated with rework related to the unexpected results that often come with more periodic research initiatives.
Armed with relevant, actionable data, brand managers are able to deliver more effective new products, ad campaigns, and consumer experiences. The end result? A healthier bottom line.
To learn more about how your company can benefit from agile, iterative insights, check out our Digsite Sprints Fact Sheet!