The world of marketing and innovation is changing. As a result, business teams are feeling increased pressure to be consumer centric in a way that is faster, more in-depth, and better integrated with marketing and product development processes. In order to be true qualitative heroes, we need to answer the "why" questions critical to driving good business decisions - and that requires us to do things differently.
In this blog post, based off of our recent webinar, I'll help you understand:
How the world of marketing and innovation has changed and what that means for qualitative research

Who the villains are that are making it hard to innovate, and who the heroes are in your organization that can help you succeed

Three things you can do today to become a qualitative hero in your organization
The World of Marketing and Innovation
Over the past decade, a ton of startups have grown from nothing into unicorns practically overnight. They are able to innovate and grow their organizations in response to consumer needs and changes, which has gotten the rest of the world to wonder how they do it. The answer? Agility.
Looking beyond the technical software process, "Agile" is a philosophy that encourages teams to become nimble and collaborative—with both customers and colleagues—in order to be able to quickly iterate products that their audiences demand. Many high-growth companies have found success by embracing an Agile approach to engineering, product development and marketing. As a result, these organizations are much more efficient and they're better positioned to respond quickly to new challenges.
In a study done by Dr. David F Rico comparing Agile with traditional methods, 83% of agile projects showed quicker time-to-market speeds and were seen as more productive.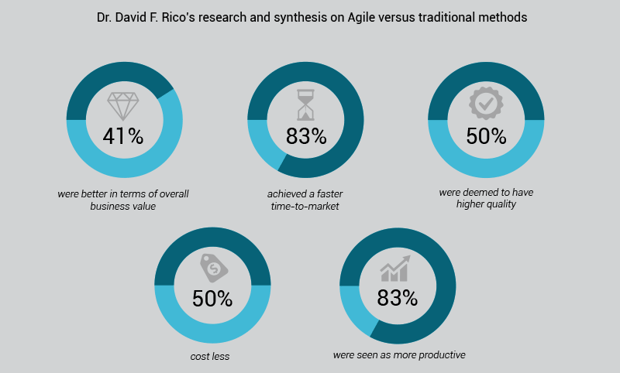 [https://luis-goncalves.com/what-is-agile-methodology/]
So what does this have to do with market researchers? Well, it's driving demand for quick insights in organizations. In order to implement Agile, teams need to do three things:
Embed consumer feedback/validation at all development stages

Use rapid, iterative development processes (think 2-4 week cycles)

Quickly build team alignment on goals and strategies
Imagine a product manager needing to make a decision in two weeks, and the research team saying it takes 3-4 weeks to conduct a research study. It creates a mismatch that either forces teams to forgo research, or to do an end-run on the market research team to collect qualitative or survey data that might not meet the standards that research teams uphold.
The New Villains
This scenario creates a set of "villians" (obstacles) that we need to overcome to be a qualitative hero in our companies. To learn more about these new villians, we partnered with Quirk's in their 2017 Quirk's Corporate Researcher survey, which asked market researchers their biggest frustrations. The results suggested four villains that prevent researchers from succeeding:
1. The Slow Adoption of New Technology
Most participants (62%) said they considered their organizations in the late majority or laggards in adoption of new market research technologies. Not having the tools and technology you need creates challenges for you and your organization. The lack of tools hinders you from being able to be agile and move quickly.
[https://www.quirks.com/storage/Q-Report_2017.pdf]
2. Lack of Knowledge and Training
Because most research methods for evaluating new solutions are "custom", the only fast tools that teams said they have access to are DIY survey platforms. And they don't have proper training to use these tools to get the data they needed. The lack of knowledge about what tools are best suited for specific research questions and how to find and use data appropriately is a villain we need to address. It's not just about granting access to research tools, it's about making sure people have the right training and information to use data in a successful way.
3. Outdated Research Processes
Many internal researchers as well as research vendors expressed being most comfortable with processes that they are familiar with. Many of these processes were developed decades ago, and they often take weeks or months to complete. These outdated processes make us seem out-of-touch and inflexible because we haven't made the time to truly innovate our own internal research methods and processes.
4. Vendor Approval and Management
In larger organizations especially, the legal and regulatory hoops we have to jump through to get new vendors on board and new projects approved can take days or weeks. This means that research initiatives don't even get considered because the process of getting started is too long. And, with big data breaches in the news, the security requirements and review processes have made it even more difficult to bring on new vendors. These hurdles slow us down in developing new agile research approaches.
The New Heroes
While the new villians seem like worthy adversaries, you are not alone in your quest to help your organization succeed. There are enablers that will help you in your journey to become a qualitative hero! Here are 3 tools that can help you be a change agent in your company:
1. More and Better Access to Data
In most companies, there is no shortage of transactional data, social media data, large scale survey research or community data. These big data sources often help identify problems or opportunities that teams can capitalize on in their product or marketing initiatives, and there are tools to help us more quickly mine that data. Of course, these data sources don't help get feedback on solutions, and so they create demand for more qualitative research to understand the "whys." But your skills at combining data sources, identifying gaps, and helping teams interpret research results will be a big factor in becoming a qualitative hero.
2. Agile Research Process
Agile research processes are your friend. They can help you break massive business questions into smaller more managable steps, each with a lower risk profile. Think about the current large scale surveys that deliver "go/no go" decisions that often create massive rework and can result in more unanswered questions than helpful direction. Agile processes let you focus on targeted qualitative research that informs in-the-moment decisions. This allows research to be more central to drive team alignment and enabling rapid iteration, rather than being the naysayer who tries to stand on the tracks to stop the train that is already moving 90 miles an hour.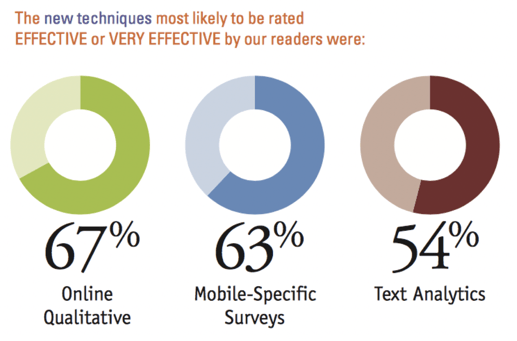 [https://www.quirks.com/storage/Q-Report_2017.pdf]
3. New Context-Oriented Technology
The Quirk's Corporate Researcher survey showed that online qualitative research is the most effective emerging tool for market researchers. Two-thirds of participants said its "effective" or "very effective", with only 6% finding the approach ineffective. One of the interesting insights from this survey is that 25% said they didn't know how effective online qualitative is, likely because didn't have any experience with it. Those of us who regularly use online qualitative know that we're getting better insights faster than in-person research. We're able to capture more in-the-moment context with deeper "why" responses.
Moving from traditional research methods to online qualitative and assessing new research tools can be challenging. To help you out , Digsite recently published an in-depth whitepaper on how to buy online qualitative research and assess providers. You can find that here: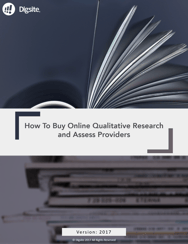 [Download: How To Buy Online Qualitative Research and Assess Providers]
Becoming a Hero
What can you do differently right now to become a qualitative hero in your organization? Here are 3 things you can start doing, stop doing and change to achieve qualitative hero status in your company.
Start: Preparing to be more responsive. You need to be prepared with tools that can help you and your team inject smaller qualitative research projects that allow you to iterate. Think about what you can do to build an Agile process into your organization, and what you should be doing to be responsive to someone who has a week turnaround time. Don't wait until marketing has an urgent need to start evaluating new approaches - as you look into planning next year or just tomorrow, think about how can start becoming more responsive.
Stop: Doing the same things and expecting different results.

Stop working nights and weekends to be agile, rather than using Agile methods. Being a hero isn't about taking methods you've used for decades and making them "agile" by working more hours – it's about working smarter and finding the right tools and vendors that enable you to be agile. And stop trying to get 100% accuracy when 80% will do. There's a lot of things you can do to get your team moving the right direction, and if you iterate along the way with more touchpoints, you'll be better off in the end.
Change: Embrace the Agile mindset. I've discussed what you can start doing, and what you can stop doing, but there's one thing important thing you can change - your reputation for being agile. That might seem difficult if you are in an organization that isn't open to new tools or technology. So start by finding one person on your team that you think is motivated to embrace change. Offer to partner with them to try a new approach that showcases how fast and flexible research can be. Don't look for a big, high risk issue. Aim for smaller, low-risk research initiatives, or b

reak your research roadmap into 2-4 week

Sprints. Reserve quantitative research for the truly high-risk priorities - and help your team avoid trying to solve every question with a survey.
Being a qualitative hero is about being fast, flexible and ready and able to help at a moment's notice. It's about being accurate in what you're portraying to your organization, and being a forward, tech-savvy thinker. Hopefully, all of you can be a qualitative hero.
For a more in-depth explanation on the content of this blog, check out the recording from our previous webinar, "How to Be a Qualitative Hero."
To learn how Digsite can help you get the consumer insights you need to become the qualitative hero of your organization, check out our Digsite Sprints Fact Sheet!