Now more than ever, it's critical for companies to make high-quality decisions quickly. Using a mix of qualitative and quantitative research to inform those decisions is arguably the best way to go, whether you do it in-house, partially in-house, or choose to fully outsource it. Men's care brand Harry's has optimized their team and technology to get impactful results.
For example, Harry's recently needed to identify new opportunity areas for their men's grooming products, on an expedited timeline. They did it, partly in house and partly with the help of Digsite. Their innovative approach gave them 18 weeks' worth of research in only four weeks.
Old school research vs. the new model
It used to be that you had to choose between quality, cost and speed when conducting research, but that's not true anymore. Technology enabled solutions have enabled research teams to deliver real-time insights for more collaborative decisions, as opposed to the old-school approach of taking weeks or months to deliver a research report.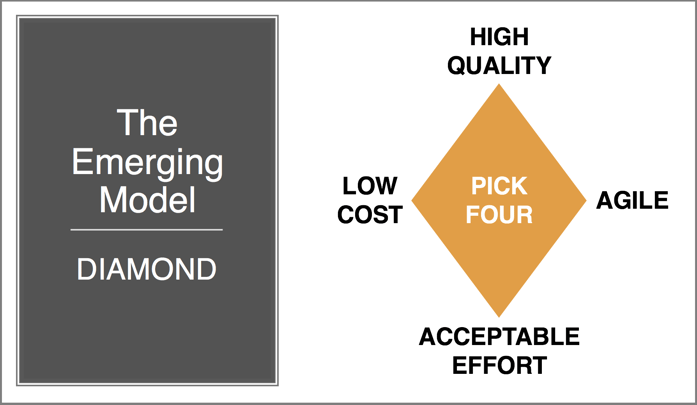 The emerging research model that we – and Harry's – champion includes four components: high quality, low cost, agile process, and acceptable effort. By agility, we mean speeding up the ultimate development timeline of a product or an ad campaign by iterating quickly. It's not about how quickly you can complete the research. It's about delivering insights at the speed of internal development, which requires agility throughout the process.
Acceptable effort refers to how much effort you are willing to expend internally in the organization. As a startup, Harry's initially did all their research in house. The acceptable effort was high because they had more people resources than external funds to complete research. But as the company grew, this was no longer the case. And it might not be the case in your organization. If you work on a team that has many responsibilities and isn't solely dedicated to doing agile research sprints, it's unlikely that you're going to be able to fully manage multiple research studies completely on your own. And it might not be the most efficient approach.
The level of acceptable effort becomes a critical factor in determining how you resource your team and how to move forward in selecting tools, technologies and research methodologies.
Agile 101
As we talk about the agile process, keep in mind that it's not about a series of go and no go decisions, but instead it's a matter of experimentation, learning in short iterative cycles and then building on your learning. The five core principles of agile are designed to:
Empower small teams

Break complex problems into sprints

Rapidly prototype and test solutions

Have tight consumer-driven feedback loops at every stage

Integrate learning as you go, creating a coherent whole
How Harry's maximizes agility
While Harry's started off doing all of their research in house, they ultimately shifted to a layered approach in order to meet their business needs. The emergence of new tools and the evolution of their business shifted Harry's balance from fully DIY to a mix of largely DIY, assisted DIY for more standardization and efficiency, and full-service for unique capabilities and expertise.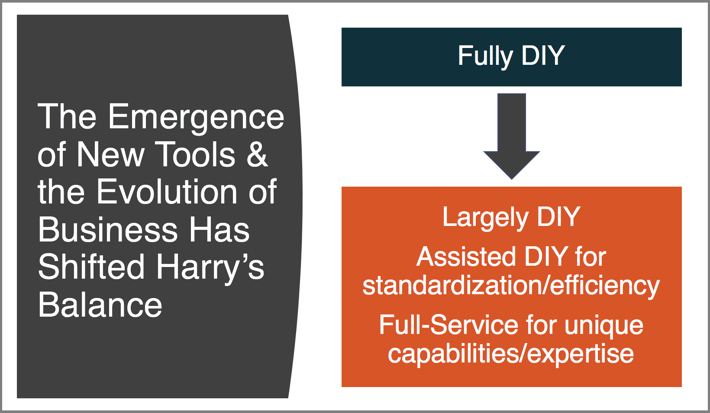 The Harry's four-week miracle
While Harry's had their existing audience segmentation in place, with strong personas and profiles, they needed to update the segmentation and identify prime prospects for continued growth. Here's what they did in a mere four weeks:
Week 1 & 2: Segmentation refinement study – quantitative (DIY)

Week 3: Depth profiling of new prime prospect groups – Agile online qualitative (Assisted DIY, partnering with Digsite)

Week 4: Positioning concept refinement and testing – Agile 1:1s and quantitative (DIY)
Depth profiling of new prime prospects group
Online communities, discussion boards and video interviews have been around for a long time. What was different for Harry's in the experience with Digsite during week 3 were:
Innovative, effective and rapid recruiting methods that resulted in targeted consumers

Support structure that allowed for recruiting in just 24 hours

Speed to live, reaching out to Digsite on a Friday and having the study go live on Tuesday

Cost structure based on moderated and unmoderated activities, which provided many efficiencies
Importance of contextual learning

In this positioning study, Harry's actually had the participants record videos of their shaving experience in addition to other activities. The learning that came out of this observation was critical in a number of ways. It's not always easy to have people articulate their emotions or to truly understand what they mean about shaving until you see it happen, according to Todd Adrian, Senior Director of Customer Insights at Harry's.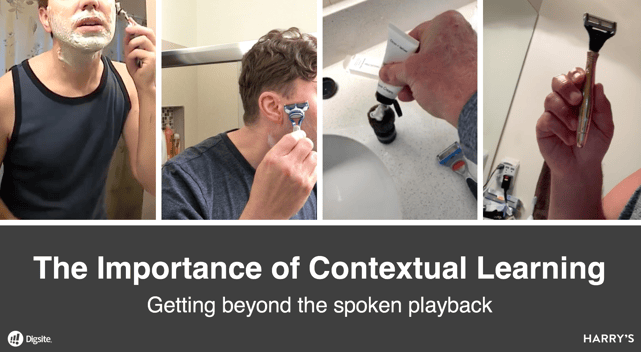 The variation in the length of the videos was informative: Some men shaved extremely quickly, but for some men the process was so slow that you wondered if they were ever going to get out of the bathroom. So the timestamp on the videos and watching that process for a variety of consumers was very enlightening for the team.
The role of agile online qual
The Harry's team didn't decide what positioning concepts to put into Digsite until day two. They needed a platform that was easy to adjust on the fly. Having that flexibility, and not having something so complex or cumbersome to program that they couldn't change as they went along, while still maintaining the quality and depth of learning, were essential to the success of the project.
If you want a platform that can help you with agile qualitative research, the four critical elements to make sure you have in place are:
Targeting - knowing that you're able to get the right participants in days not weeks

Robust feedback in multiple formats, including discussion, video, questions and mark-ups

Ability to iterate questions on the fly

In-depth learning that gets to the why's
Rapid decisions during the COVID-19 era
In this time of COVID-19, what level of organizational commitments and long-range commitments are companies willing to make regarding digital technology and platforms? In the qualitative space, until recently, we've seen a willingness of organizations to make 12-month commitments to qualitative research technology, because it is mission critical and companies feel it is the right way to get the insights they need. Over the last several weeks, we've actually seen this commitment accelerate for companies.
Particularly now, companies need to move faster than ever before. You may have a large database of pre-COVID research, including segmentation and personas. All of this will be somewhat irrelevant over the next 12 to 18 months as you navigate consumers shifting needs. You're going to have to figure out how to iterate products, experiences and communication through this COVID-19 era, because putting strategy completely on hold and waiting until the end of the pandemic isn't viable.
Coming up with ways to bridge the gap between what we knew to be true of customers in January of 2020, to what we know to be true of customers now, to what we think might be true of customers a year from now is going to be part of the journey.
Harry's used quick quantitative research to identify the group of people they wanted to dive deeper with for innovation, and then they immediately proceeded to profiling and positioning work through qualitative efforts using a combination of community conversation, self-recorded videos, concept feedback and video interviews. Your company can get high quality, low cost, agile insights by following a similar path.
What Harry's accomplished in a short time is impressive, and I hope it inspires you to see what is possible for your own organization – especially now, when your organization needs fast insights more than ever.
For more information on brand innovation during the COVID-19 outbreak, check out our new on-demand webinar series that features our research report on consumer shopping habits during COVID-19: How to Conduct Market Research During the COVID-19 Era.