Do you need to conduct research in the coming weeks or months? What should you consider? What are participants saying and how are they responding?
Digsite CEO and Founder Monika Wingate frames it up in the video below: "Many of you have been asking about doing qualitative research during the COVID-19 crisis. We here at Digsite wanted to provide you with a couple recommendations and tips."


Since COVID-19 hit the U.S, we have gathered the following insights from our team out of the front lines of conducting online qualitative. We also ran a special research study to better understand Consumer Reactions to COVID-19. Here's what you need to know now.
Are participants engaged in research? Yes. We are seeing:
High interest in participation, within both B2B and B2C, including medical professionals.

High (near 100%) show rates. Participants are eager for a diversion from what's going on in real life and want the opportunity to add value and make money.

Better engagement in research. Participants are responding even more quickly than normal on video and within the online community.


What are researchers doing differently?
Acknowledging the COVID-19 crisis and the fact that participant behaviors might be different.

Showing increased empathy and moderator engagement.

Being understanding and patient when participants are in confined spaces, have kids or pets in the room, distractions, etc.

Creating shorter time commitments (20 minutes or less) and more iteration (including a mix of live and offline).
What research should you be doing remotely?

B2B topics relevant to business needs now – remote work, business planning, purchasing behavior and more.

Concepts relevant to consumers now – food, exercise, entertainment, financial planning and more.

Transitional A&U exploration - watching people's behavior change over weeks and months.

Corporate and brand communication – using remote research to help strike the right tone.

Traditional and social ad testing – are your ads still appropriate?

Product research for near-term launches – optimizing products and communication.

Customer service and experience support – how can you better address customers' needs?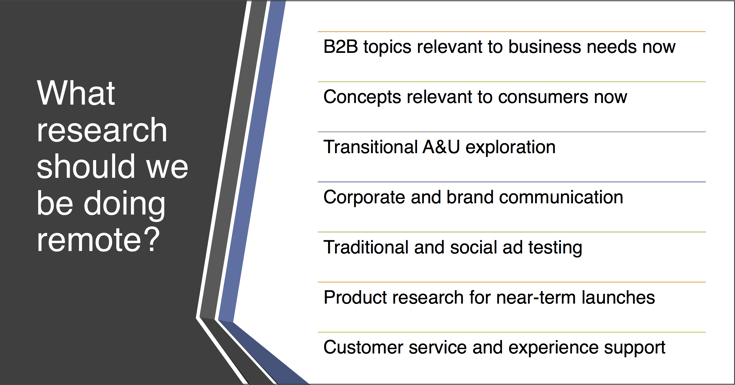 What research should you NOT be doing right now?
Current qualitative research should not include:
Behavioral testing outside the home – make sure to follow federal and state guidelines.

Product testing that doesn't fit current consumer behavior – for example, on-the-go and travel products they can't experience now might be hard for them to imagine using.
Current quantitative research should not include:
Research you expect to have a shelf life of 12 months or more, such as segmentation or foundational A&U investment.

Volume estimation for ideas launching in six months or more. These results may not be very helpful in predicting actual consumer behavior.

With our agile online research capabilities, we will be keeping our finger on the pulse of research considerations and will share them regularly.

For more information on conducting online qualitative research during the COVID-19 outbreak, check out our new on-demand webinar series that features our research report on consumer reactions to COVID-19: How to Conduct Successful Remote Research with Online Qual and Consumer Reactions to COVID-19.