With traditional market research, the expectation has been for the brand team to ask for research and then wait for study results before making a decision and moving forward. Today, the expectation is different.
I liken it to the Tour de France, where a cyclist's team rides alongside him, providing food or a repair while he is racing down the road. No time to stop. It all happens at the same time.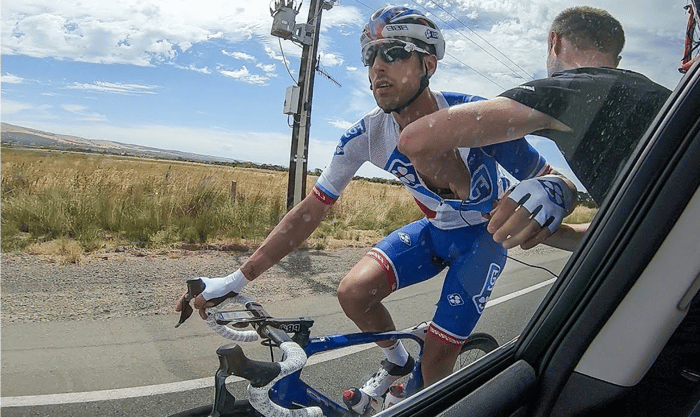 Image by DC Rainmaker via https://www.dcrainmaker.com/2018/01/behind-scenes-team-car-tour-down-under.html
By combining qual and quant capabilities, we can provide this type of value, helping companies and teams move more quickly through development, without slowing anything down. Using qual + quant provides a set of insights that can propel the team forward and help them learn as they are building.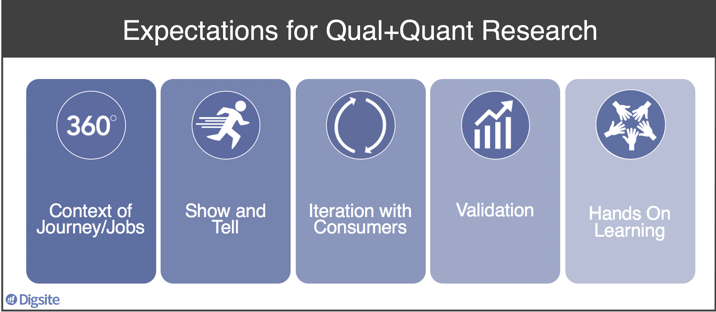 Here are a few examples of qual + quant studies we've been involved in to show you how learning and development can happen simultaneously.
Harry's Case Study
Objective: Revise the consumer target for new products while building positioning concepts at the same time.
Harry's, a leading men's care brand, did a quick four-week quant study, but they started their qual work almost simultaneously. They didn't have positioning statements written on day one. Instead, they watched the insights and created the positioning as they were validating their target audience. This led into additional quant testing. While this followed a more traditional approach than the next two examples, the entire process was abbreviated and fluid, instead of feeling like separate studies.
Johnsonville Case Study
Objective: Verify positioning while testing the product.
Johnsonville was excited about a new product: sausage strips that were cut and prepared like bacon. They wanted to get this new taste experience to market quickly, so they launched a fully integrated qual + quant study, conducting product testing while exploring user experiences, verifying positioning and building a compelling sell-in story for retailers.
300 participants went through a product tasting component. A segment of this group simultaneously completed a more in-depth qualitative process, including sharing pictures of the contents of their refrigerator and taking videos of how they prepped and used the product. People don't always follow instructions from product tests, which became evident during the video portion of the study. The Johnsonville team re-contacted several participants who got better outcomes than they had in their test kitchens. They had those participants confirm some details of their preparation process and were able to recreate the desired effect.
This was an unexpected benefit of the qual process. At the end, they realized that one flavor within the product line tested well quantitatively, but didn't fit the brand positioning, so based on this qualitative research decided to replace that variety. The results of the qual + quant were so compelling that they got buy-in from across the organization to launch during COVID. Not a small feat.
Pet Brand Case Study
Objective: Conduct behavioral testing while completing benefit optimization.
A pet brand had six potential claims they were considering putting on their product packaging to better position themselves against their competition. They used social media advertising to test these benefits. Here's how it worked: They took the benefit claims, unbranded, and put them on Facebook and Instagram to see how much interest each created. Whoever clicked through an ad was brought into a Digsite community where we could learn more about them, what they recalled about the claim, what their interest level was, and why. We also got feedback on branded product packaging that fit with the claim.

It was an innovative, effective way to combine quant results (the ads that got the most clicks), and the qualitative "why" behind it. The marketing team was able to validate the positioning strategy and learn how it might fit onto the packaging, which helped them move forward with brand development.
Tips for Successful Qual + Quant Research
Do:
Plan for real-time team participation. Use a platform that allows your team to ask follow-up questions and iterate as you learn.
Simultaneously validate while exploring the next critical question. Use validation research and the qual/quant combination to get validation but to also help the team move forward. You always want momentum and want the team to be able to keep going.
Use dynamic reporting to propel iteration. Use a solution that gives your team instant dashboard access and lets them see results as they are coming in. This allows them to make decisions or review information on a daily basis, as opposed to having to wait until the end of the study.
Leverage video and artifacts to sell in as you go. One of the great things about qual is that you have quotes, videos, images, and a way to re-contact people to ask follow-up questions. You can leverage those to get more accurate in-context information, to tell a story and get buy-in.
Don't:
Design quant surveys over 10 minutes long. If you want rapid validation, you need to keep quant studies short. Most people will be completing these on a mobile device, so you need to think about that experience too.
Stop building solutions while you conduct research. Make sure you've scoped the research in a way that allows the team to keep moving forward while research is happening.
Let great stimulus be the enemy of learning. This is one of the biggest challenges for insights teams. Sometimes they get so stuck on trying to make the concept or ad perfect that the research gets delayed. When you pull qual + quant together, the team can feel less pressure to have everything decided upfront and feel more comfortable moving ahead instead of derailing the process.
Wait to deliver research results for weeks. Long, drawn-out studies should be few and far between in today's environment. Don't make your team wait for weeks while you pull a report together.
For more information on combining qual+quant research, check out our new on-demand webinar, "Harnessing Agile Qual + Quant Research to Maximize Effectiveness."