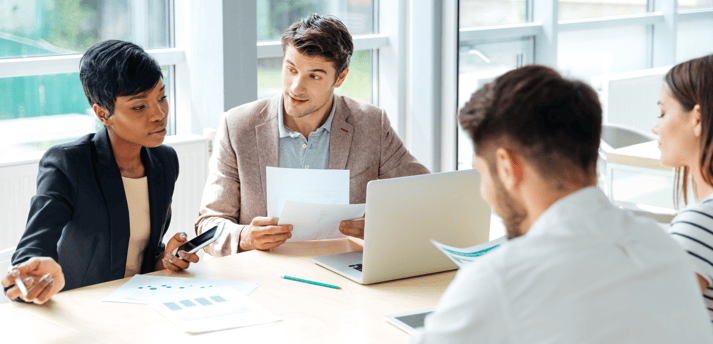 The fastest growing organizations today are using agile approaches to consumer feedback in order to get to market faster with better ideas. These approaches offer opportunities for marketing, innovation and market research teams to create positive change. Whether you are working to bring change to your organization, or you are being disrupted by your organizations need for speed, this blog will help you with concrete examples and recommendations.
In this post you'll learn:
What it really means to get "agile" consumer insights

How an agile approach will benefit your organization

The role technology plays in helping you deliver speed and quality

Examples of how American Family Insurance uses Digsite Sprints to be agile and disruptive
---
What do today's fastest-growing companies have in common?
Fortune's 100 fastest-growing organizations cross a wide range of product categories, from consumer products to financial services and pharmaceuticals. These companies have grown an average of 20-50% year over year on average for the past 3 years, creating the type of performance your senior leadership and shareholders are striving to achieve. Let's explore some of these companies and what, specifically, they're doing to continue enjoying explosive growth:
What do these six businesses have in common? They are all applying agile principles at their organization. In fact, a quick Google seach shows that each of these companies currently has openings in agile development or marketing.
So what is "agile" anyway?
In its broadest definition, agile is a methodology that enables teams and companies to continually refine their products as they build them. Originally designed for software development, agile was created by a group of software developers who were sick of product failures because they were given the wrong set of requirements. They questioned why teams thought they should even know all of the requirements at the beginning of a development process.
The agile approach has been adopted across organizations by focusing on rapidly iterating products and marketing ideas through the development lifecycle, continually improving them along the way. As a result, companies get the peace of mind that comes with knowing that the products they ultimately release will be better received by their customers. While engineers and DevOps teams frequently operate under agile principles, the new way of working has spread to other departments—like R&D and marketing.
There are three central tenets of the agile approach specific to consumer insights:
Embed customer feedback in each stage of the development cycle. This enables teams to incorporate feedback while they move from ideas to implementation. Instead of finding that a central part of your design isn't working for customers when you're nearing a release date, this allows you to fix the biggest problems earlier in the development cycle.
Use rapid, iterative processes for building solutions. Iterating early and often enables you to reduce the scope of each step, incurring smaller risks with each new version. Rather than thinking of research as a stoplight that gives you a decision without direction, agile puts more emphasis on capturing deeper, contextual info and diving into the "why" behind customers' feelings.
Build team alignment on goals and strategies quickly. Instead of using internal politics or opinions to inform decisions, agile enables teams to use consumers own words and actions to help inform solutions. And qualitative approaches that focus on capturing experiences with artifacts like photos and video help build consensus quickly.
The benefits of agile speak for themselves:
83% of companies that use agile methods bring products to market faster

50% of agile projects cost less than traditional ones

50% of agile projects are higher quality than traditional ones

83% of agile companies are more productive

41% of them bring more business value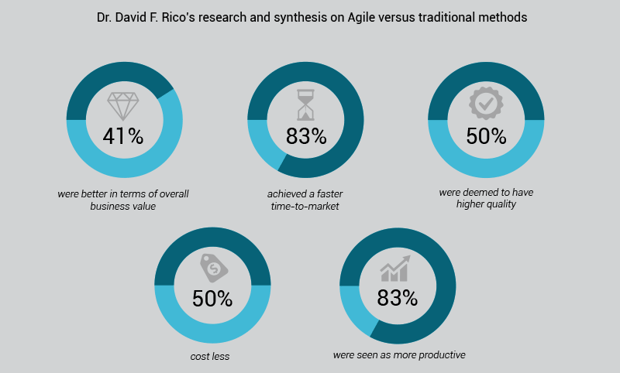 [Luis Goncalves: What is Agile Methodology]


Agile at Your Organization
How exactly can you turn agile into a reality at your organization and be the disrupter?
New online qualitative approaches are playing a key role in the agile revolution. In the past, agile was impossible for many companies because of the costs and time required to conduct in person research. However, new online research solutions enable companies to get quality engagement quickly and affordably.
Companies that use these tools are able to make rapid decisions. This is due in large part to the fact that they don't have to search for willing research participants themselves, which is often a costly and time-consuming endeavor. Digsite, for example, maintains a high-quality panel of pre-qualified research participants and can find hard-to-reach audiences via proprietary social media approaches. This allows companies to find the customers they need to talk to quickly, often overnight. Digsite Sprints—an online qualitative research service—don't require a significant investment and can be completed in as little as one day. They can also be held over longer periods of time if companies wish to iterate and optimize as they learn new things, repeating the process over several days to deliver a better product. This approach can be much more economical than ongoing communities, which often require significant overhead.
Companies that use Digsite Sprints can achieve better outcomes than their competitors who are still relying on outdated methodologies to go to market. By using behavior-based targeting, Digsite ensures that companies that use it find the exact audience they're looking for. The turnkey solution enables teams to streamline and enhance collaboration while gathering crucial in-context learning that allows them to design products that thoroughly meet customers' needs.

American Family Gets Innovating
American Family Insurance (AmFam) is an insurance company that was founded in 1927. The firm offers property, auto and life insurance, as well as health insurance, retirement planning products and more.
Recently, keeping with the agile spirit, the insurer shifted the duration of typical projects to Sprints that lasted 20, 30 or 45 days. Marketing research had previously been supporting these projects with focus groups and surveys—and were typically perceived as slow, expensive and predictable. They'd spend a ton of time tracking down participants, and they'd spend a lot of money paying the team for their time and incentivizing participants to agree to the study in the first place. When the results came in, they were pretty much what you expected. And even if they weren't, there wouldn't be any mechanism in place to ask follow-up questions after the next iteration.
Everything changed after shrinking project timelines drove them to use Digsite Sprints to uncover the data AmFam needed to make the best decisions in 3-6 days. The insurer didn't have to sacrifice on quality to accelerate timelines—quite the contrary. Thanks to Digsite's innovative solution, AmFam was able to easily engage with targeted participants and learn and iterate with them quickly.
To help AmFam's research department prove they could be agile to the rest of their organization, they launched a proof-of-concept Digsite Sprint to see how customers perceived loyalty. This was a high visibility project that was important to the CMO. And critical to AmFam was to understand how to address the gap between what consumers say, and what they do when it came time to participating in a reward program.
AmFam decided to launch a five-day Digsite Sprint where research participants would participate in a mock loyalty program and offer feedback along the way. AmFam spoke to 30 customers and had them share their experience with photos or video as well as indicate how they felt after each activity. Here are some of the responses they received: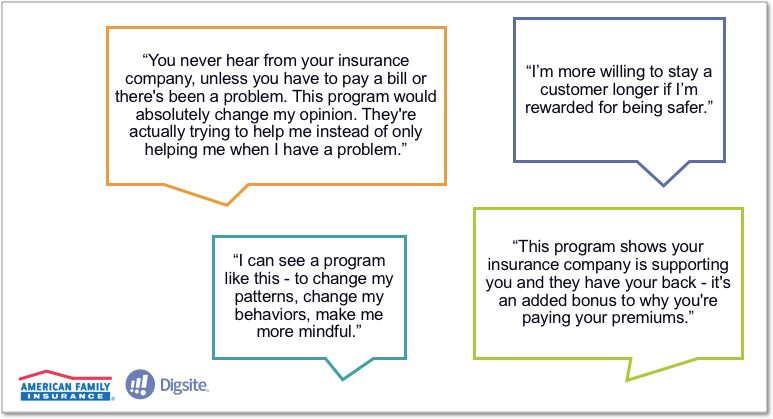 After the inaugural sprint, AmFam knew that they could not only increase customer loyalty with the right program, they could also improve safety in consumers' homes.
Case Study: Happy Little Trees
Happy with its initial Digsite experience, the word spread quickly about how responsive the research department was able to be with their new agile approach. AmFam applied the same agile approach to other projects both big and small.
Another example was a project that examined which low-cost experiences AmFam could offer their customers to tap into their emotions and increase engagement. One of the ideas called "Happy Little Trees" was getting some pushback from management because they thought it might be perceived as cheesy. AmFam launched a three-day Digsite Sprint to understand what happened when customers simulated the Happy Little Trees Experience, where when they switched to paperless billing they received a surprise email telling them a tree was planted on their behalf to thank them for going paperless.
Once again, the quick and affordable research provided a wealth of data that encouraged AmFam that investing in the tree planting program was worth the added cost: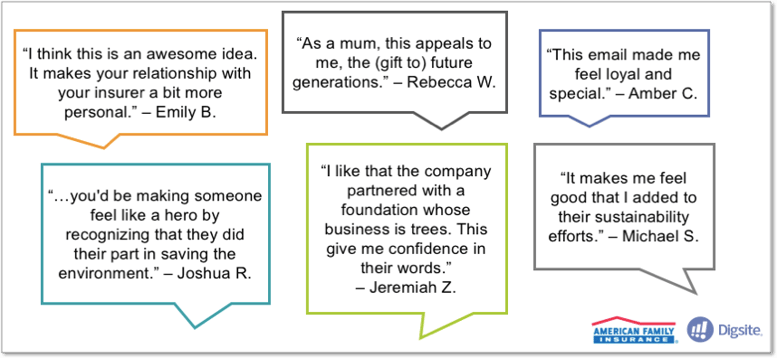 With confidence, AmFam was able to bring back to life this idea that had been dying on the vine. Thanks to Digsite Sprints, the company was able to deliver high quality research at a fraction of the cost per interviewee.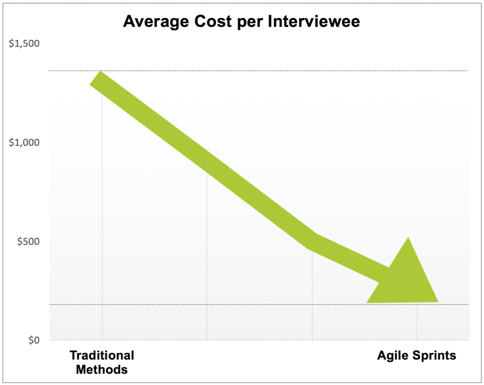 Amfam was also able to conduct more research with the same budget they've had. And, instead of studying customers for three to six weeks, AmFam is now able to wrap up research in three to six days—enabling them to iterate that much faster.
How can you disrupt your organization?
Disruption from inside your organization is much better than disruption from your competitors.

Whether your company has been around for nearly 100 years like AmFam or you've just been in business for a few years, you can help bring better products to market faster by adopting an agile approach to business.
To do that, you first need to create a disruptive vision. This can be accomplished by tweaking your office environment and encouraging your team to build new agile habits. Don't focus on reinventing the wheel overnight. Instead, shrink the change—take baby steps until you get to where you want to be. As you get going, encourage the most enthusiastic members of the team to spread the word and help their colleagues get hooked on the agile feeling, too.
Becoming an agile organization also requires using modern solutions that enable your team to move faster and iterate with confidence more often. You can't do the same things and expect different results. To disrupt your organization, you need to find tools that make things easier and faster—just like the ones today's startups rely on.
What might these tools look like? Use a collaboration platform like Slack to accelerate communicate and decision-making. Use a modern qualitative research platform like Digsite to get the data you need to inform your decisions. Use modern CRM tools like Hubspot to see what content works best. The list goes on and on.
Keep in mind that research sprints don't have to be confined exclusively to marketing messaging or loyalty programs. You can also use sprints to:
Brainstorm new ideas

Prioritize ideas, features or benefits

Iterate on product and packaging concepts

Explore the customer experience

Build an emotional brand positioning

Optimize ad concepts

Test web designs and usability
Success in today's fast-paced business world starts with being able to move as fast—if not faster—than today's most agile companies.
By investing in modern tools that accelerate decision-making and enable you to move forward with confidence—and encouraging your team to adopt an agile approach to work—your organization can essentially disrupt itself, beating would-be disruptors of your business into submission before it's too late.
To learn more about how to invest in the right modern research tool for you, check out our whitepaper, How to Buy Online Qualitative Research and Assess Providers!