Today's top performing businesses understand that markets and customer preferences are constantly changing. In order to succeed, they need to be able to pivot on a dime, and they expect their business partners and the agencies they work with to have the same capabilities.
Key Takeaways
To succeed in today's business climate, companies need to make the right decisions quickly
In the age of shrinking budgets and lean teams, many of them are forced to look outside company walls for help
Agencies that are able to bring

to their clients both

critical expertise and streamlined qualitative research methods stand to generate a lot of business
Digsite's agile, iterative approach can help agencies become agile and therefore differentiate themselves from their competitors, operate more efficiently and add more value
Introduction
To succeed, today's companies need to be faster, more nimble and agile. It's not surprising that the organizations considered the most nimble also demonstrate explosive growth.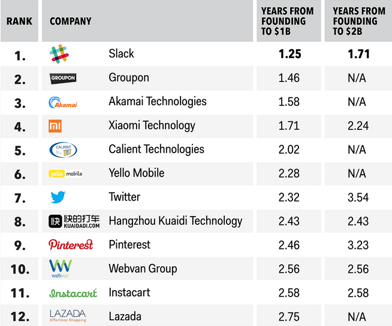 Source: Business Insider, 20 Fastest Companies to Reach $2 Billion Valuation
The world's largest organizations have taken notice and are now trying to capture some of that startup magic. Take Barclays, for example, which has seen tremendous success by investing heavily in innovation and partnering in a highly-conservative industry. Their focus, known as Open Innovation focuses exclusively on sourcing, testing and iterating new ideas.
Not only do the strongest companies hold themselves to these standards, they also demand the same from the agencies they work with—whether those agencies are focused on improving the customer experience, building new products or services, serving as research consultants or creating marketing collateral. In fact, forward-thinking organizations are unlikely to engage with agencies that they perceive as using an outdated approach to research.
Unfortunately, many agencies haven't adopted new tools and processes to engage and learn from consumers. This, of course, presents many opportunities for agencies that have streamlined their approach to research to make better decisions in less time. For example, agencies that use Digsite's agile insights platform are able to move faster and iterate more quickly with the confidence that comes with knowing, with certainty, what customers want.
Iterative insights enables agencies to quickly and affordably conduct targeted research in a collaborative manner. This research, which can be completed in as little as one day, produces actionable data that informs decision making, thereby increasing the chances businesses achieve the results they have in mind.
Not only does this functionality enable agencies to demonstrably provide considerable value right now, it also positions them to be stronger, agile qualitative forces in the future.
How exactly are today's smartest agencies using Digsite to achieve results? Let's take a look.
Using Digsite to Enable Better Experiences, Innovation and Iteration
Better, faster research makes everyone happy. Agencies benefit by being able to provide more value to their clients. These clients benefit by being able to deliver better products, services and experiences. Customers benefit, too, because they get the products and experiences they are actually interested in.
Iterative insights represents a quantum shift in the way agencies partner with companies and create value, putting them in the driver's seat. No longer do they have to serve as passive partners; the technology allows agencies to uncover key insights that are actionable, accurate and affordable. Instead of sitting back and taking direction from their clients, agencies become the heroes of the relationship.
It's one thing to suggest an idea to a client. It's quite another to bring forward current, pre-validated concepts, new ideas and insights—with the data to support them.
Agencies that use iterative can deliver results. But they can also serve as transformation agents to the agile process.
In addition to helping lean teams take care of their responsibilities, agencies can educate clients on what they need to do to become agile themselves. What's more, they can use social media recruiting tools to track down the right research subjects and build an audience—and capture them in the Digsite SocialFind panel so they can access these pre-qualified research participants in the future, saving more time and money while iterating even faster.
In today's fast-moving business world, speed is of the utmost importance. The first movers that deliver the products customers want and market them effectively stand to make a lot of money. Any agency that is able to help companies achieve these goals will be in high demand.
For example, McorpCX—a customer experience management company—uses Digsite to ensure that its clients' customers are happy with as they interact with those brands across multiple touchpoints. Agile, iterative insights allows McorpCX to provide more value to its clients by:
Listening to the voice of the business to decide where to focus

Listening to the voice of the customers to gain deeper understanding of their pain points

Sharing outside-in customers insights using personas and customer journey maps

Designing, prototyping and testing solutions which improve the customer experience
All of this combines to create an agency-client model where marketing and advertising go well beyond traditional touchpoints and deep into the client experience, as expressed in this diagram: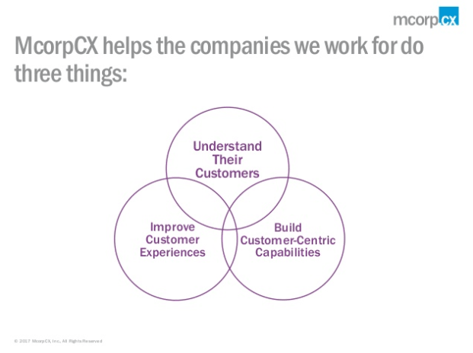 To learn more about how companies are using Digsite to provide better experiences and innovate faster, check out this case study that details how Barkley, an advertising agency, helped a major athletic brand learn what mattered most to their customers.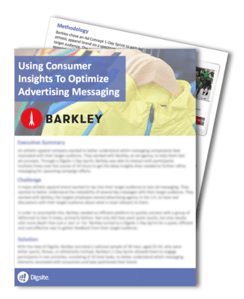 Using Digsite to Operate More Efficiently
In certain cases, research needs to be conducted in person; imagine a situation where a company that makes lawn mowers needs to see how homeowners use their products. It would be difficult to capture all of nuances of usage without visiting customers.
But in many instances, research can be conducted online to achieve desirable results. After all, consumers are more likely to tell the truth when they are safe behind the cloak of anonymity (i.e., their screens).
This is why advanced agencies use Digsite. The innovative approach enables them to create a streamlined process that they can plugin to their customer proposals in a more standardized way. Agencies can use Digsite to create qualitative discussion guide templates to speed things up even further, helping them inform and iterate products, designs and campaigns much faster.
Most agencies aren't research technology experts. Instead of having to spend a ton of time learning complex tools, agencies can leverage Digsite to get the answers they need with an interface that is designed work like familiar social media sites. Digsite enables agencies to design both standardized and fully customized qualitative studies they can then leverage to help their clients make quick decisions that are rooted in data. Once participants are recruited and communities are created, agencies can continue to use these assets to meet future needs.
Using Digsite to Evolve and Differentiate
Agencies that lack the ability to conduct research quickly will lose an edge to those that leverage modern solutions like agile insights. Not only does this help them drive value and support innovation, it also creates stickiness with clients; once they see how certain agencies can help them make better decisions, they won't even think about looking to switch to someone else.
Quite simply, agile, iterative insights are a more economical way of conducting and providing research. Agencies can keep their clients plugged into real-time customer sentiments and help them avoid making the wrong decisions—and absorb the associated costs.
Iterative insights empowers agencies to differentiate themselves from their competitors. Agencies that use Digsite can clearly state their value proposition, showing their customers what their process is and how it can be customized to each specific business to deliver the best results.
Digsite allows agencies to leverage a proprietary approach to qualitative that helps meet client needs. This makes it much easier to produce winning campaigns that convert—information that can be used in pitches to help convince companies that they are in the best position to assist.
With Digsite, not only can agencies pitch their own strengths, they can also formulate an offer that's combined with iterative insights for even more conversions. As a result, agencies stand alone among their peers. Over time, this translates into more resources they can invest to become even stronger.
To learn more about how your company can benefit from agile insights, check out our Digsite Sprints Fact Sheet!