Qualitative research is essential to solving today's business challenges that are socially intricate, involving changing behaviors and subtle interdependencies. More flexible qualitative methods can help guide faster and more accurate business decisions, and have proven to be essential for client-side teams.
Flexibility in research is sometimes overlooked as teams seek to move quickly. But, just like in sports like basketball or soccer, you don't win simply by moving fast. You have to adjust to changing circumstances as you learn. In our most recent webinar, we took a look at customer stories where flexibility was the key to their success.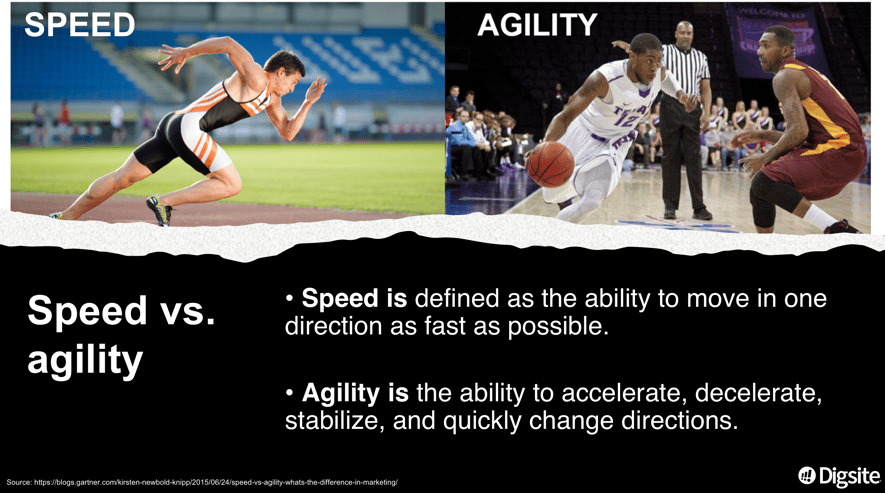 When you think about agility and flexibility, there are four different kinds of movements that help you get to that goal. The ability to accelerate, decelerate, change direction and stabilize. These four types of flexibility can be applied to qualitative research to help your team adjust and learn more quickly. Below we will provide examples of each.
If you want to learn more about agile concepts and methodologies, we have created an easily digestible series Ready, Aim, Fire: A Guide to Agile Insights for Consumer Product Teams.



Example #1: Changing direction through multi-modal engagement
Harry's is a men's care brand that started making direct-to-consumer shaving products in 2012. After expanding to retail stores and gaining traction with new products, they came to Digsite wanting to understand how to develop a marketing program to reach a new "prime prospect." Their goal was to get to market quickly, so they needed to condense 12 weeks of research into 4 weeks.
The solution? Collecting robust qualitative feedback in multiple formats that allowed them to learn as they built solutions. While Harry's had the in-house capacity to create surveys, it didn't offer this level of flexibility. They used Digsite's group discussion and video sharing features to get more context on problems and usage behavior. This way, they were able to quickly get to the real emotional context and the "why's." One of the ways that you have flexibility in qualitative research is the ability to change gears from day to day. Throughout the process of learning from consumers, the Harry's team was actually building different positioning communication ideas in real-time. Each day, they were looking at what they were learning to inform the next day's question. In addition to open-ended feedback, they used the platform's structured questions, image mark-up and voting features to evaluate ideas as they were being built.​ By using this approach, they arrived at solutions they felt confident to take forward into development.

Example #2: Accelerating by quantifying qualitative​ data
In this project, a large consumer brand wanted to test new product concepts, packaging, marketing and messaging strategies with their target audience of automotive enthusiasts. They knew that the overall market was relatively broad, but felt the key to their success was with a well-defined group of "super users" that were too hard to reach with traditional quantitative research. Rather than doing two phases of research, they were able to get both groups in a single study with enough depth to understand what resonates with that targeted group and a large enough sample to have confidence in mass market appeal.
Collecting responses from 400 target buyers, which included the 50 "super users," they launched a 1-day scalable, qualitative "Pulse" study. Participants marked up images of the concepts to note what they liked and disliked, answers open-ended questions and voted on certain ideas. Because of Digsite's access to a high-quality sample and expertise in rapid qualitative recruiting they were able to get fast and accurate results. The client was able to monitor responses through Digsite's instant dashboard that aggregated automated keyword analysis. Participant quotes were pinned by our research moderators to show real-time feedback while the study was happening and automated benchmarking also showed results side-by-side to get an instant snapshot of stat-tested differences.

This hybrid, qual-quant approach has been used by organizations to gather rich learning and iterate without multiple research phases. The combination of a robust tech platform and our research experts allows teams to stay "out of the weeds" of research logistics to see robust results and make faster decisions.


Example #3: Stabilizing by launching ​overnight studies​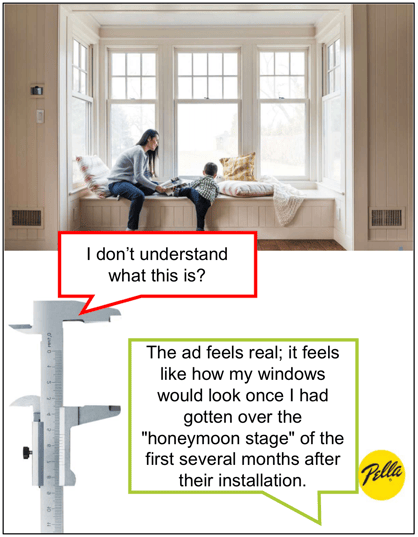 Pella recognized that the pace of business is only getting faster, so they needed to respond accordingly or get left behind. The challenge was that they had many daily decisions to make, and didn't have the time to plan, design and launch a study to confirm one. They needed on-demand capabilities to launch DIY qual studies overnight. With Digsite, they set up a group of consumers in a qualitative community that they could tap into throughout the year. So, when the marketing team had an underperforming ad, they were able to figure out why with a quick-hit overnight study.
Through the open-ended qualitative feedback they received, it was discovered that a confusing graphic on the print ad was the point of contention. What worked for Pella in this case was the flexibility and access to Digsite's platform, so the whole team could watch results and better understand consumer empathy for future ads. Unlike prior survey research, the communication team felt they were getting valuable insights rather than just having their work critiqued via a yes or no decision.


Example #4: Decelerating by re-contacting​ participants
Johnsonville launched a brand new sausage strip product in March of 2020—the middle of the pandemic. Although they were confident in their product prior to launch, they wanted to make sure that it truly fit their brand and met customer expectations. They wanted to drill deeper than a typical product test to understand how consumers interacted with the new sausage product at home.
The solution? Conduct a traditional product test with 300 people, while concurrently collecting qualitative research among a subset to capture the consumer experience. Johnsonville was able to gather videos about the preparation and consumption of the product and tapped into some of those same participants to follow up with more questions based on what they learned. By slowing down to understand the opportunities that could improve the product before its launch date, they were able to avoid pushback from senior leadership and retailers about brand fit. They learned that one of the flavor varieties wasn't truly on-brand and were able to make a quick shift to deliver the right experience.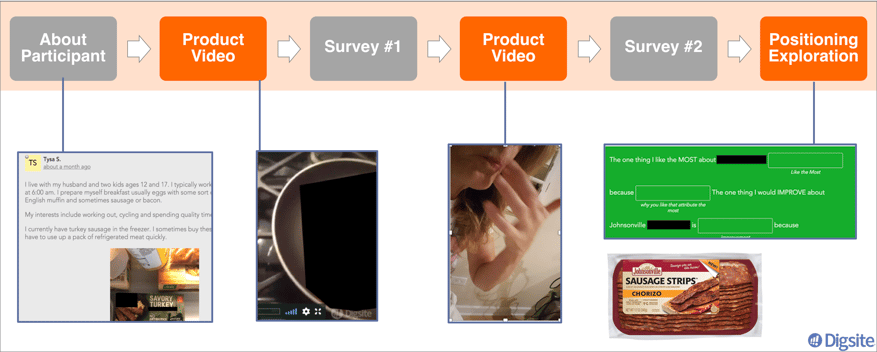 As a bonus, they were also able to see in the video responses that some people didn't follow the cooking instructions and prepared the product in a different way than expected. By re-contacting those participants who deviated from the instructions, Johnsonville was able to optimize the package's cooking instructions. With the research they collected, the product launch truly delivered on its promise. In this case, the video clip reels were essential to learning and getting buy-in by senior management and retailers. Digsite's video analysis tools made it easy for them to find clips and build clip reels based on themes and keywords. They also tapped our expert consulting team for more advanced video analysis.


Hit tight deadlines without cutting corners
Flexibility shouldn't equate to your availability to work nights and weekends. You need the right tools and services, whether you're doing all the research yourself or supplementing with research experts to get the best of DIY and full-service. Leading online qualitative research platforms offer faster and more flexible learning than in-person approaches, with granular analysis that can be scaled up for validation. Having a tech + services partner with expertise in agility can help you innovate faster, removing logistical hassles and optimizing research for quick, iterative analysis.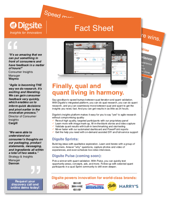 Want to learn more about Digsite's flexible capabilities?
See the ways you can use Digsite to understand user needs more clearly and answer the "why" questions to design, build and iterate better products and services. Download our Fact Sheet for a complete overview of Digsite.