Back in 2015, the use of online qualitative market research was pretty low. Digsite was first designed as an alternative to virtual focus groups that tapped into the type of social media engagement most people were (and still are) accustomed to. Six years later, a lot has changed, but our ability to help companies innovate by engaging and iterating with targeted consumer groups is still the driving force behind our work. Research technology continues to evolve, and we practice what we preach by constantly introducing better, faster and stronger features and capabilities.

Consumer insights teams evolved in 2020 as we leaned into digital qualitative methods instead of in-person research and used attitudinal tracking to supplement broken forecast models. Plus, we accelerated our transition to more frequent research check-ins and optimized our mix of technology and services to help address smaller budgets and teams.

Internal deadlines and limited resources are the sources of many headaches, as we witnessed in our study conducted in December 2020 among 145 market researchers. Digsite's sweet spot in the industry is our ability to move back and forth between deep qualitative exploration and quick quantitative validation One platform with one technology simplifies the process and eliminates those speed bumps that are so frequently experienced by insights professionals.

As our consumers evolve, our industry needs to evolve along with it. We're going to talk about four specific areas that Digsite's people and platform have amplified in the last year, from our core methodologies to the look and feel experienced by the user.
1. Innovative recruitment that keeps up with the world.
High-quality participants get you high-quality research. In addition to organic social media recruitment, we have added on layers of quality checks to avoid issues that are commonly seen with providers. We go beyond the basics of checking an IP address to filter out potential fraud. Digital fingerprinting makes sure that people aren't completing too many other studies or trying to get into the same study multiple times. Our response validation process involves the automated review of open-ended responses. Elements like the way a sentence is structured, words used and how the data is entered are all closely monitored for signs that a user isn't engaged or responding appropriately. The third component that makes our recruitment approach unique is the knowledge probe. Fakers are caught in their tracks when faced with our screener questions that check their actual knowledge of the subject at hand and disguise the qualification criteria.
2. Flexible Qual+Quant technology that helps you iterate as you learn.
Continuing with our theme of practicing what we preach, Digsite conducted a study among vaccinated consumers in June 2021 that uncovered which activities, products and services they want to keep and their direct thoughts about how their life has changed since the pandemic happened. The entire research effort was conducted over seven days, which started with a 100 person Pulse (for quick-hit idea validation) that blended some traditional survey questions and exploratory tasks like image mark-up and fill-in-the-blank storytelling. We asked them questions about their lives, like what they were planning to do differently now that they are vaccinated, and their feelings about continuing some virtual activities like doctor's appointments and clothes shopping. One voting task was a repeat of a question we asked a broader group of consumers before the vaccine was available (so we could benchmark the results).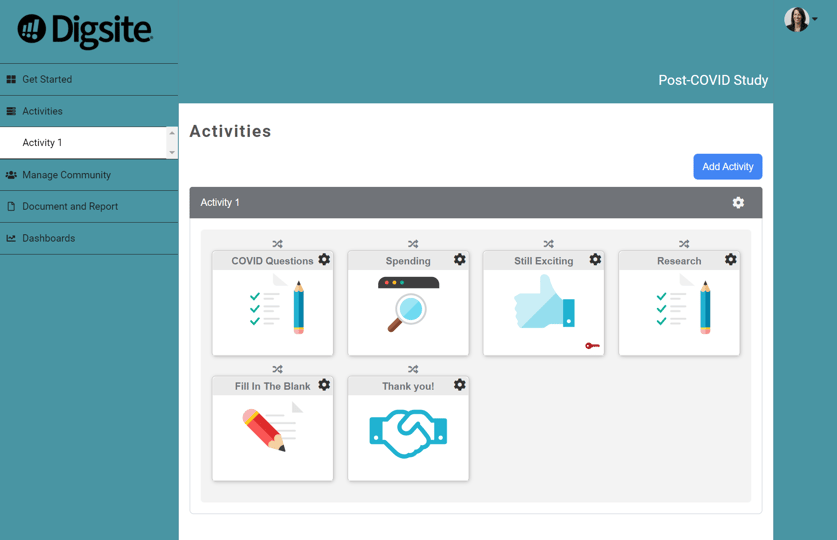 Digsite's Blended Qual and Quant Tasks
We iterated seamlessly from the Pulse to a Sprint study (for qualitative exploration), where we were able to capture photos and videos, drilling deeper with 25 participants through group conversations. Then, we followed up with a set of five participants by scheduling live video interviews. All within this same seven-day period.
You can see our dashboard and the interaction between Sprints and Pulse in action by setting up a quick demo with us here.
The ability to iterate and change gears on a dime leads teams down the right roads, faster. And teams can capture the context and stories they need to bring quantitative findings to life.
3. Dashboard reporting that increases speed.
Industry research has shown that insights folks are typically spending about 40% of their time on analysis and reporting. If you've ever stayed up late into the night to build a PowerPoint deck, you can probably relate. Digsite has streamlined that process through a new SmartDashboard that quickly summarizes responses in real time.

Digsite SmartDashboard

At any point, you can check to get a sense of the findings and share the news with your team or leadership. Key quotes can be pinned to the results, so you can display an example of the consumer voice right there in the dashboard view. The SmartDashboard can filter responses based on age, gender or by activity. You can also dive into a single participant's responses by hovering over data points. The elements of the report are customizable and those key insights are downloaded straight to PowerPoint with editable objects so you can make that perfect presentation for Sr. Management in half the time.
We have added a new SmartBenchmark feature that gives teams instant charts that compare between multiple identical tasks (say survey results on concept A vs. concept B). You can also compare task results across multiple studies to track changes over time (like in the case above about our pre vs. post-vaccination study). Visualize statistically significant changes without pouring over spreadsheets and making calculations.
You can check out our year-to-year benchmarks for things like grocery shopping and food delivery from our Covid survey conducted among vaccinated consumers here.
4. On-Demand services that adapt to your team.
We've seen large shifts in how organizations are using technology. Fast-moving teams understand that you can get more done and save considerably by having just the services you need, when you need them.
Some teams who work directly on the client-side use a tech platform on-demand to set up, launch, moderate and report findings themselves. Others are stretched thin and need support, someone to partner with them to make sure every study is a success. Digsite offers scalable levels and types of support – from rapid full-service support to helping self-serve users apply industry best practices and anywhere in between.
Get advice on how to set up a study with the right kind of questions. Going on vacation? An in-house Digsite research consultant can monitor a community for you. Need an executive summary to wrap things up? One of our experienced team members can get that done for you. You don't need to have it all figured out. Digsite is there for you as a partner to support your goals and back you up.

What this means for you and your team.


Move rapid, iterative sprints. Across organizations, innovation requires the ability to move quickly. Multiple pieces of research can happen at the same time with one phase informing the next.

Better support for small, high-growth brands. Emerging companies that are in a high-growth stage and larger brands that have acquired innovative brands into their portfolio have unique needs. Even if you're directly working within the platform with a hands-on approach, sometimes you need an expert to guide you through the process to help address challenges and boost your efficiency. Having confidence in your methods and tech partner leads to more confidence in your results.
Better strategic research. Over the last few years, we've seen technology play a major role in zeroing in on and identifying strategic needs via jobs-to-be-done research. You can gain deeper context into people's motivations by observing what they're doing. You can also use these tech platforms like Digsite to refine opportunity areas at a faster, more efficient pace.
More "why" answers at scale. After identifying problems or opportunities, you can get right into validation without sacrificing the ability to probe deeper and address unexpected findings. Validate your ideas with hundreds of customers, plus collect stories that bring those results to life so you can give your President or CEO the confidence to keep moving forward.
Less reliance on in-person research. In-person research has been viewed as a necessity for some certain types of research, but improvements in technology have given teams new ways of learning with user-submitted photos and video responses, private and group discussions and live video interviews. Automated analysis simplifies the entire process and the ability to go back and follow up with certain participants through an online platform saves time.
The payoff of using new technologies.
Innovative platforms like Digsite lead the transformation of the qual+quant insights industry because they enable us to do more with our budgets and get more in-context learning, quickly. Using these newer technologies in your day-to-day research reduces your testing costs so you can test more ideas. Some of these major brands have seen these other types of ROI when using Digsite.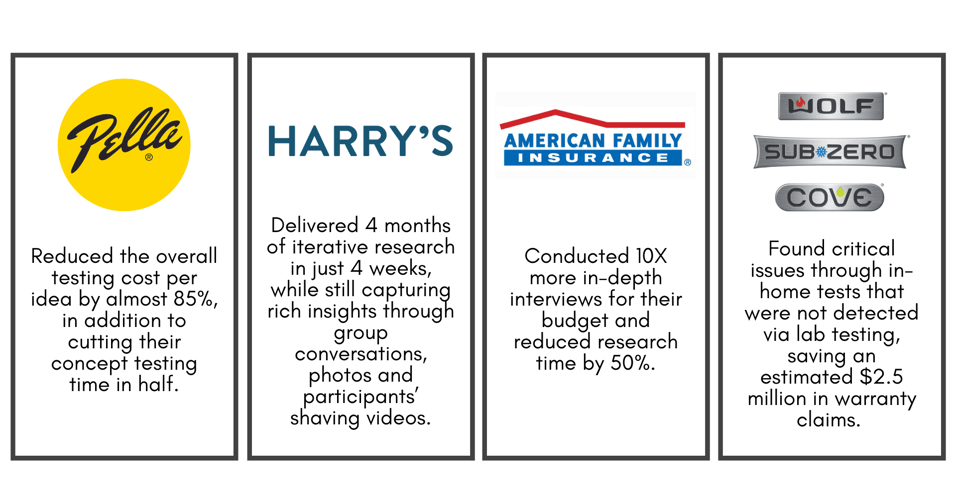 You can read more case studies here.
Digsite looks at the market research and insights industry as a partnership. Get in touch with us today to talk about your ideas and learn about your needs as a large organization or small insights team.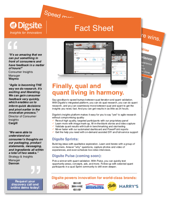 Want to learn more about Digsite's flexible capabilities?
See the ways you can use Digsite to understand user needs more clearly and answer the "why" questions to design, build and iterate better products and services. Download our Fact Sheet for a complete overview of Digsite.