Consumers are far from being "back to normal" and they're testing the waters going back to their pre-COVID activities. This next post-vaccination year, we will likely see just as much change as we did during the pandemic itself. A recent Digsite research study uncovered which activities, products and services consumers want to keep and their direct thoughts about how their life changed. Before we get into those results, we wanted to talk about how we as Insights Professionals are evolving to address continued, rapid marketplace change.

Consumer insights teams evolved in 2020 as we leaned into digital qualitative methods instead of in-person research and used attitudinal tracking to supplement broken forecast models. Plus, we accelerated our transition to more frequent research check-ins and optimized our mix of technology and services to help address smaller budgets and teams.


As we look at the post-COVID world, we believe that many of these changes will stick with us. But we also believe our future success comes from flexibility rather than speed alone. The ability for research to be flexible creates speed for teams and organizations, not the other way around. In fact, Digsite measured five dimensions of consumer insights flexibility in a study among 100 companies. These dimensions included the size of our studies (Qual vs. Quant), our ability to customize research, the variety of ways we engage participants, our ability to capture in-context behaviors and our ability to recontact or iterate with consumers. What we found is that organizations with greater research flexibility moved faster and had a greater impact. Those with less flexibility may or may not move faster in conducting individual research studies, but they weren't informing as many decisions.


How flexibility can work in a research study.
The basic framework of flexibility comes from the agile concept of simultaneously building, testing and learning. We can move fast by exploring qualitatively (earlier) and iterating, vs. approaching the process in different stages and phases of research, which can slow us down and lock us into methods that might not fit our learning objectives. However, we also recognize that quantitative numbers are sometimes the only way to get buy-in for decisions. So how do you conduct qualitative research that scales to the level of validation needed to inform larger decisions?

We thought we'd show you by example. In June of 2021, Digsite investigated rapidly changing consumer attitudes, planned purchasing behaviors and research expectations with a study conducted among vaccinated consumers. We spoke to males and females across the United States to understand what life is like in the newly vaccinated world that they're experiencing. This entire study and analysis was completed in about 7 days.
How our Qual+Quant research study worked.
We started with a quant+qual phase with 100 vaccinated participants, using our platform to ask a mix of traditionally structured questions and qualitative exploration tasks so we could dig deeper than your typical survey in about 10-15 minutes. Participants responded to survey questions, marked-up whiteboard images with dots and comments, voted on critical issues and told a narrative through fill-in-the-blank storytelling.

The bulk of this research was conducted over seven days, incorporating what we learned from each step into the next, so we were quickly iterating as we went along. Throughout data collection, we looked at our results in Digsite's dashboard where we could see a quick summary of feedback and determined what we wanted to dig into further.

We continued the conversation with 25 respondents within a qualitative group discussion on our same platform. And finally, we used a brief video interview phase to follow up with five key respondents. Respondents could sign up for the live interviews right through the Digsite platform including a tech check and receiving text message reminders. This approach gave the team the flexibility to quickly measure attitudes and behavior, benchmark results to prior research, collect photos/video or other in-context learning, dive deep into emotions and even iterate our questions as we learned by asking follow-up questions as we went.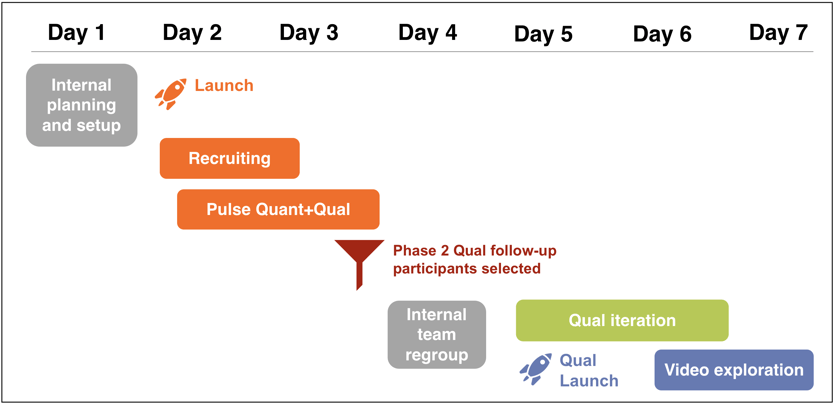 Every business can benefit from the implementation of flexible qual+quant methods to accelerate your learning process. If your organization can change directions as you learn, move quickly with either few consumers or hundreds, and stabilize by adjusting based on your results, you will be successful in navigating all the changes that are to come in the upcoming year. If you want to learn more about how you can build agility into your processes or how technology can help you to be more flexible, we can help. Don't get left behind in the evolving post-pandemic landscape.

THE RESULTS: Phase 1 Quant + Qual Validation Preview
Consumers are slowly returning to "normal."

We're seeing a wide range of responses – most people are moving toward more of their typical activities and engagements but almost half of respondents have been hovering in that middle space with some level of uncertainty. Over 35% said they feel that they're really quite normal and about 15% still saying I don't feel very normal. We also saw more people saying that they're likely to return to their activities in the next 30 days. So, what are people still holding back on?



THE RESULTS: Phase 2 Flexible Qual Iteration Preview
One year ago, consumers felt drained, anxious and annoyed.​
We started Phase II with a fill-in-the-blank task that mirrored the task we asked one year ago in our first COVID study. The most difficult part they reported about changing their behavior? Just sticking with it.

One year ago, the top emotions respondents reported feeling were:
"Drained" and "depleted" as they were trying to pull off homeschooling and work.

"Stressed" and "anxious" not knowing what the future would hold.

"Frustrated "and "annoyed" as they were stuck inside and struggling to entertain themselves and their families.


In this year's study, 100% of participants said that they're making changes to their behavior after being vaccinated. Some are making many changes while others are making just a few. The top emotions respondents reported feeling were:
"Worried" and "cautious" about returning to normal life.

"Nervous" about trusting others in a post-COVID state.

"Optimistic" and "excited" about returning to a post-COVID, vaccinated state.


Consumers are feeling cautiously optimistic but nervous about what are others doing – if they're vaccinated, if they're wearing their masks and if they're going to keep their distance.


Want to read our full learnings and data? Read our executive summary here which features a video reel of our key consumer insights so you can hear from consumers themselves.

So, now what?



We need to think about how these results will impact our organizations and how we move forward with market research and consumer insights. Agility is key, allowing you and your team to effectively and efficiently move while maintaining control. These types of movements help you make better and faster decisions.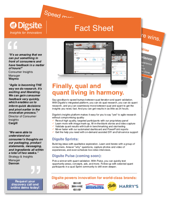 Want to learn more about Digsite's flexible capabilities?
See the ways you can use Digsite to understand user needs more clearly and answer the "why" questions to design, build and iterate better products and services. Download our Fact Sheet for a complete overview of Digsite.