Companies need to move faster than ever, due to the shifting, increased needs (and wants) of consumers. For insights professionals, the past year has been heads down, working as fast as possible to deliver high-quality insights so companies can navigate these changes as effectively as possible. We spoke to insights pros to better understand how they've been able to build research agility to deliver speed and efficiency. You can see the results of our study and how you compare to your peers with our Research Agility Self-Assessment.
Marketing leaders don't want to make mistakes or bad decisions, but existing data and analytics have limited predictive power in this environment and marketers are struggling to find the best way forward, according to a Gartner article. "Under the present circumstances, data and analytics teams are strained to deliver against expectations," said Senior Director Analyst Lizzy Foo Kune.
This adds even greater demand for Consumer Insights teams to deliver custom research to fill in the gaps and accurately chart the right course for brands, customer experiences and product development. A recent Digsite study uncovered common difficulties faced by insights pros, including:
Limited budget and staff

Team is stretched too thin

Hard to get both the numbers and stories needed to inform internal decision making

Slow internal approval process for vendors

Unrealistic timelines

Changes in scope after starting a project
How does your organization compare?
To keep up, leading companies are accelerating their transition to agile methods to deliver consumer-centric insights faster. They are also seeking tools and approaches that avoid sacrificing quality for speed. Sound familiar?
You are hopefully improving within your organization, making bigger strides, and achieving faster insights. But how are you doing compared to other organizations? Where does your company and your insights team fall on the spectrum of your peers? What is the norm for agility today, and where should you focus to improve your capabilities and stay competitive?
We spoke with insights pros from a diverse set of industries – 80 companies represented in all. From this research, we used seven key measures of agility to identify three specific tiers of agile researchers: the Juggler, the Manager and the Achiever.
Which one are you? To find out where you fall in comparison to your insights peers, take this fast 10-question test. You'll also learn, based on your score across seven measures of agility, what you can and should be doing to move forward.

Research Agility Self-Assessment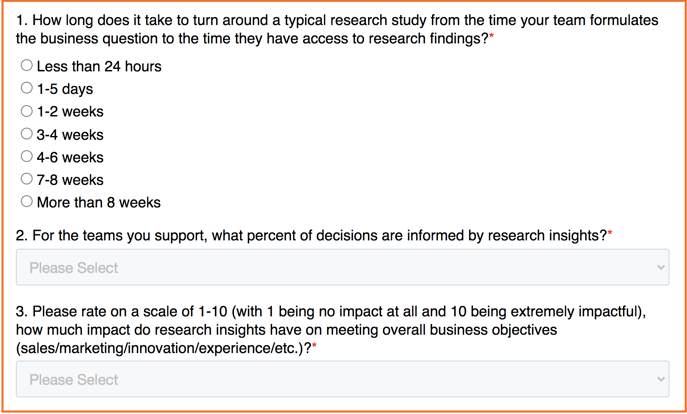 We hope you find this test valuable for your organization. Your results will also help us continue collecting data and tracking progress throughout 2021. Make sure you're subscribed to our newsletter to get updates including more granular insights by industry and linkage to the ROI of your research budget to deliver both speed and quality.