Today's leading organizations are increasingly employing agile approaches to developing new marketing programs, product or service innovations and customer experiences. By leveraging agile market research methods, your organization is able to simultaneously design, test and build new solutions before going to market. This approach speeds time to market, while still ensuring your go-to-market strategy fits with consumers' changing lifestyles, situations and needs.
Our monthly blog post offers practical tips and advice on how to implement agile research. May's agile tips are centered around the ways in which you can incorporate video into your research and are provided by Monika Wingate, Co-Founder and CEO of Digsite.
Tip 1. Incorporate Live, Moderated Video into Your Research
Live video interviews provide many of the same benefits of in-person interviews, with the additional ability to flex between group and one-on-one interactions.

For live video interviews, use a consumer-friendly video platform like Zoom for a seamless research experience on mobile devices and laptops. Insights platforms like Digsite combine Zoom capabilities with recruiting, automated scheduling and rewards to take the hassle out of video research.
Tip 2. Get Quick Feedback with Unmoderated Video Questions
Unmoderated video is an effective way to capture consumer responses without having to be in a live session.
Video questions allow participants to share their experiences. Video questions work best when you are looking for a shorter response, typically 1-3 minutes in length.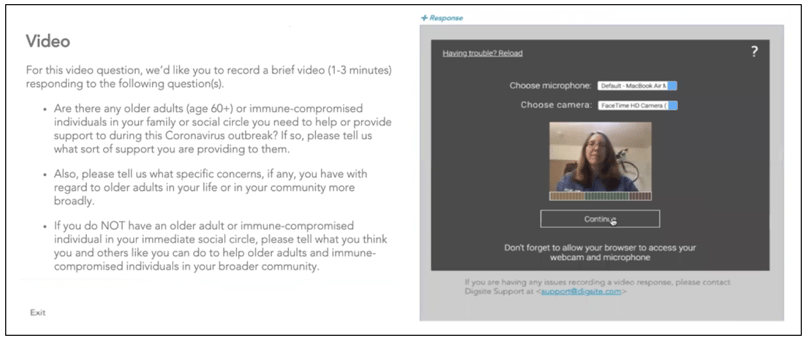 Digsite Video Task


Video widgets can be embedded into survey or qualitative platform, enabling you to ask a question via text or video, with the participant replying directly with a video response. If you embed a video question into a survey, make sure you allow people to opt-in to video and plan for a smaller subgroup of participants to complete it.
Tip 3. Capture Experiences with Unmoderated Video
Unmoderated video works well for longer videos and for recording an entire experience. The participant records a video on their phone and then uploads it.
At Digsite, we embed that capability into our platform along with automated video transcription and analysis. You can use a file-sharing system like Dropbox for the uploads if you are doing it on your own.
Tip 4. Combine Online Communities with Video
While video is a primary tool for remote research, insight community platforms like Digsite can help you layer on even more capabilities to make remote research more effective than using video alone.



Within a Digsite Sprint community, you can recruit people over a few days and then drill down to smaller sub-groups and conduct live video interviews with them. You also have the opportunity to engage them after they share their video experience, which allows you to iterate and get additional feedback rapidly.
To see how four real-world companies are moving away from costly and time-consuming stage-gate development processes and prioritize innovation while operating with agility, check out our new eBook: How Innovation Teams Use Agile Research to Build Better Products in Less Time.