Market researchers are always on a mission to innovate. While they're finding solutions to challenges experienced by consumers, the inner workings of their teams can also face challenges. If you've ever struggled with market research prioritization, logistics, team bandwidth or research timelines, you're not alone.

So, what does an award-winning men's care brand, a leading car maintenance product manufacturer and an insights team within an innovative yogurt company have in common? They are all empowering their lean teams to make a big impact with consumer insights.


During our Quirk's New York event session, Digsite CEO Monika Rogers moderated a Q&A style conversation between industry leaders from Chobani, Gold Eagle and Harry's. These leaders shared their experiences innovating within their companies, including what they think it takes to be successful in today's environment. In this recorded live event, we discuss the challenges of small teams and how these classically trained insights pros have shifted gears to increase their success.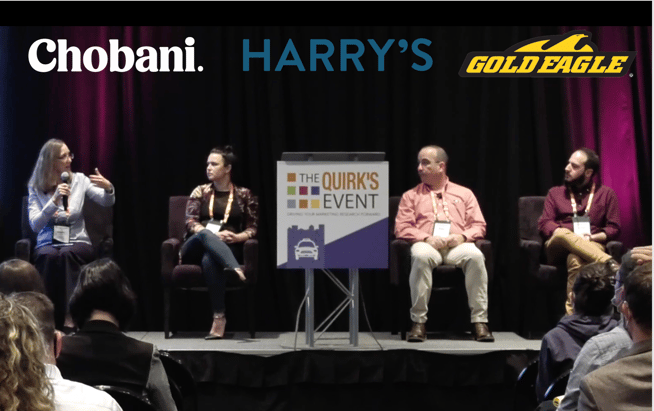 You can watch a recording of the live session "How Consumer Insights Teams Drive Innovation: Featuring Hormel, Chobani, Harry's and Gold Eagle" here.
Panel Members:


Q: How would you describe your lean team or your transition to a role on a lean team?


Liz: When I was previously working at ad agencies on the strategy side, I was finding that my work would sometimes end up in a drawer. Or, by the time the product made it to the shelf, it didn't really align with the strategy I recommended. I knew that I wanted to go brand-side to understand innovation from a business perspective. I joined Chobani on the insights team to use the qual tools I already had in my back pocket.
We're a tight-knit team of seven who have launched four new categories in the last year and a half. That might not sound small to everyone, but we do about 90% of our research in-house. We all bring a certain set of expertise, whether that's marketing, innovation or sales, and "hold hands" to do projects together. We've worked really hard to bring the qualitative and quantitative aspects together to bring a holistic and deeper perspective to our team. We make sure that we all have a knowledge of our categories, our competitors and consumers inside and out.
Peter: I'm a career insights professional and was brought on as the Director of Consumer Insights at Gold Eagle to lead the innovation lab to look for new business opportunities and new growth platforms for the company. I've seen the industry from the agency side and the client side, always having a thread within new product development and innovation.
Our team is lean, made up of myself and the creative force at our innovation lab. We also engage the local university and professors and look for resources and opportunities wherever we can get them inside or outside of the organization.
Jeremy: I started my career on the agency side and moved to Harry's to support the brand in their shaving products category. When I started, our team was four people and we're now up to six. Although we're small, we all have the same mentality of being scrappy and keeping the customer centered on everything we work on. Our insights are honest and we have some of those tough conversations to push what's important and actionable up to the top.
Q: What skills did you have to learn as you transitioned from a more traditional research role into a lean organization?


Jeremey: Prioritization. I have to think about the work and what kind of insights are achievable (or not achievable) to provide. We have to think about what would have the most impact.
That's where this partnership with Digsite worked out really well, because we didn't have the infrastructure within our organization that would give us speed. We felt comfortable doing some of the moderating and worked alongside Digsite on the survey design so we could iterate, learn and determine the next set of questions to keep moving forward.
Q: What kind of advice would you give to lean teams in the same kind of situation?


Liz: You need to be honest with where your expertise and capabilities lie within the team, especially if you're small. For us, there were so many logistics involved that we knew we couldn't pull off the project ourselves in the timeline we wanted. For example, how do you get a refrigerated product into the consumer's hands during the peak of summer? That was something I didn't want to deal with.
So, there were aspects where we knew we could lean on Digsite a little bit heavier and spend our time where it was most valued. We didn't want to lose that one-on-one contact with the consumer and who they are. This allowed us to have the breathing room to get to know our insights in and out and not cloud ourselves with some of those logistical aspects.
Peter: In my role, I have to creatively solve complex problems, design research, execute research and even analyze, so external relationships are critically important. Having those partnerships in place helps bring qualitative and quantitative expertise and best practices to a lean team.
Jeremy: I would say just try to be scrappy in any way that you can! Keep the consumer as the guiding light regardless of your team size, resources or your budget. There's always a little bit more that you can get out of what you're working with. It's also about being honest with your capabilities versus what you're not able to do. We were able to work with Digsite and then retain some of those research participants and have our own offline sessions with them. I felt like that was a great way to get more out of the tools.
Q: How do you make sure that your research serves all teams, including marketing, sales or leadership?


Liz: We've focused the last year and a half on what we call "slideology." We know that we can't present a deck to our NPD team the way we present it to our creative team. While it does require some extra time, we have repurposed versions of our presentations that visualize the way that different people need to absorb the information. Then, we do monthly calls where we invite different internal audiences and share information on different topics.
Peter: With my previous company, I appreciated the stakeholder alignment before launching a project to understand what their needs were. Then we could go through the process together and collaborate with the different teams to iterate ideas and hone in on specific opportunities.



So, what does it take to thrive on a lean team?


Engagement
Focus on listening internally in your organization. Facilitate focused decisions out of the research. Develop the ability to tell compelling stories, and boost them with video clips, photos and quotes.

Leadership
Sometimes it's uncomfortable to say "let's pause," but stopping the process to refine questions or concepts can save time in the long run. Don't feel like you need to fully bake a consumer insight and make it perfect before testing.
For example, you don't need to put 100% of your research questions into the study right away. Instead, ask consumers the top three or four and prioritize the next set of questions based on what you heard. Some old habits can die hard, but make sure you get your research assumptions out of the picture. Stay confident in what you're doing and select the right person for the right job within your team.
Insights pros need to start "unlearning" their routine, phase-gate approach and move to a more agile development process. As the project moves from point A to point B, all parts of the research process are integrated into a larger, cohesive whole. An initial solution stands on its own, but can be built and improved upon over time through iteration and learning loops. This learning loop process is repeated until the team ends up with a product that can truly deliver against the customer problem at hand.

Learn more about agile methodologies and best practices in our 3-part eBook series "Ready, Aim, Fire: A Guide to Agile Insights for Consumer Product Teams."

Productivity
Understand what your own skills are and deputize people in your organization based on theirs. Don't try to do everything yourself and use that "scrappy" mentality to use resources when you need them. Select the right agile insights technology partner for your needs. Lastly, be honest with yourself, your team and your consumer.
How do these lean teams get it done?
Some small teams try to do as much in-house work as possible when they feel like they can get it accomplished. But there are certainly times when they don't have the bandwidth for a totally-DIY project. Fortunately, teams like the ones at Chobani, Gold Eagle and Harry's have a relationship with Digsite that helps them achieve their goals in any kind of capacity, such as:

Determining the direction of the "fuzzy" front end

Understanding consumer experiences and needs

Testing with new groups of people

Getting up close and personal with research participants

Setting up a community of participants to have meaningful conversations

Watching videos of home usage tests

Developing essential reports for leadership buy-in
Dig in deeper than a closed-ended survey to understand the "why" and not just the "what." Partner up with an agile insights platform like Digsite to brainstorm the questions together and focus on the most interesting pieces. With this unique kind of partnership, you can be as hands-on as you want to, whenever you need it.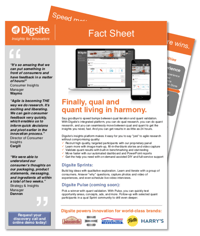 Want to learn how the Digsite platform can help you uncover and validate jobs more effectively without the guesswork?
Check out our fact sheet to learn more about Digsite's capabilities.