With over a decade of media silence, Dannon's Fruit on the Bottom flagship brand had become "outdated and boring" in the eyes of consumers. Dannon needed a fast, cost-effective way to have extensive, ongoing conversations with consumers.
The downside of having one of their traditional focus groups or a flat, online survey is that they would only get a snapshot in time from one single audience. These methods didn't offer the ability to build on questions over days, so they turned to Digsite to collect insights that would breathe new life and innovation into their classic brand.


The Objective
Dannon wanted to jump-start their Fruit on the Bottom brand for the first time in 14 years by exploring innovation ideas. They wanted to understand:
Who is the target audience?

What does the target audience look for in yogurt?

How can Dannon address their needs and desires?

How will Dannon communicate to this target audience?
The Approach - Two Sprints
Digsite created two Sprint communities with Dannon's input to observe and engage with recruited participants and made adjustments based on the ongoing results. Over 70 participants were selected via social media using Digsite's SocialFind™ process, with an emphasis placed on parents who regularly consume yogurt and have kids 8-12 years old.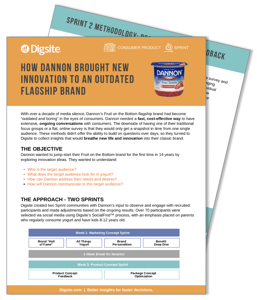 Read about Dannon's approach and methodology in our new case study: How Dannon Brought New Innovation to an Outdated Flagship Brand.

Learn how they got valuable feedback on their packaging design, product statement, mood of messaging and ingredients to fuel their first campaign around the Fruit on the Bottom brand in over a decade.