Thanks to mobile devices, social media, and e-commerce platforms, we all know how seamless the modern digital experience can be—to the point we've grown to expect that's how they should be. In the financial services industry, startups like Acorns, Robinhood, Betterment, and Wealthfront have emerged as digital-first operations. These companies are built from the ground up to focus on stronger customer experience (CX). That starts with being easier to use, intuitive, reliable, and helpful. But true magic came by building new, innovative experiences that deliver even more value.
This is a shrewd approach, as innovation within CX is quickly becoming the
key differentiator
among businesses. Customers are four times more likely to leave a brand after a
poor experience
,
and substitutes are always just a quick Google search away.

While traditional financial services companies have been around for decades and have built up strong reputations over the years, many have fallen behind on both service and experience innovation. They are focused on basic "must-haves" to improve CX such as personalized experiences, ensuring their websites and apps load quickly, delivering on instant gratification expectations, and creating mobile-optimized content.
Some leading brands—like Bank of America, USAA and American Family Insurance—are catching up, and we'll touch on them in a bit.
Add it all up, and to get to the next level and remain competitive, traditional financial services companies need to innovate to provide the best customer experiences—it's that simple. Otherwise, they risk becoming largely irrelevant as both their peers and startups move past them—by leaps and bounds.
Agile research can help accelerate this much-needed CX innovation by getting deeper consumer insights and innovating in areas where you can improve your overall value proposition.
What is Agile Research?
Agile research brings the concepts of agile innovation within software development to the world of consumer insights. Research teams work in sprints, research can be completed quickly, and teams can harness the power of the digital technology to facilitate the entire process—leveraging research participants that fit the precise market segment they're targeting.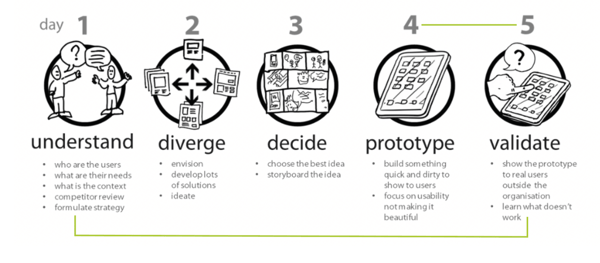 It used to be that context based qualitative research had to be conducted in-person, in what was usually a time-exhaustive, resource-intensive prospect. Plus, you'd often run into geographical constraints. If you were based in New York City but wanted to sell a product to the entire country, you would probably have to set aside a few weeks of travel to get the insights you need.
Agile research brings in-context qualitative research online. With the right platform at your disposal, you can not only have consumers share experiences and context of their journey, you can also follow-up, drilling down deeper to find out why people feel the way they do about particular products, services or marketing programs.
So how exactly can you use agile research to innovate on customer experience?
It's a question of where you want to begin. If you bake agile research into your company's processes rather than thinking of CX innovation as a project, you can become a truly customer-centric company—one that delights its customers in every interaction, and keeps up with those fast-moving startup disruptors.
Let's take a look at three real-world examples of how Bank of America, USAA and American Family Insurance have made the customer experience a top priority—to give you an idea of how you can do the same.
Improving CX in the Financial Services Industry
1. Bank of America
J.D. Power recently recognized Bank of America for the exceptional customer experience they deliver on their digital channels.
The bank has been around for more than 20 years. But the company has recently made massive strides to optimize the web experience.
And that's worked out wonderfully, as 76 percent of the bank's customers use web banking.
How did Bank of America build such a customer-friendly website? They started with survey based real-time feedback to identify gaps and opportunities, but also focused on in person qualitative research with their customers to uncover innovative ways to improve their offerings.
2. USAA
USAA is a credit union that serves military families. The company prioritizes the customer experience by continuously listening to its customers.
USAA employees—the bulk of whom are veterans themselves—routinely call and chat with customers to find out what their pain points are and identify ways they could improve their offerings.
According to a study, only 26 percent of financial services companies that are known for poor customer experiences ask for feedback. USAA, on the other hand, solicits feedback from nearly half of their customers.
By communicating with their customers regularly, USAA is able to pinpoint precise ways they can continue to improve CX.
3. American Family Insurance
American Family Insurance was founded in 1927. While they had successfully grown to become the nation's 13th-largest property/casualty insurance group, they realized they needed to innovate faster in order to accelerate their growth. They started by implementing Agile within their digital experience team, and then expanded their agile approach to both marketing and innovation. Each team uses Sprints that lasted 20, 30 or 45 days to accelerate timelines. Marketing research had previously been supporting these projects with focus groups and surveys—which were too slow and expensive for these Sprint timelines. Looking at their own methods, the insights team realized the key issues slowing them down were tracking down quality participants and managing the logistics of in-person or phone interviews. Plus, if they found something unexpected in their research, there wouldn't be any mechanism in place to iterate from their learning.
Today they use Digsite Agile CX Sprints to help inform decisions in 3-6 days. The insurer didn't have to sacrifice on quality to accelerate timelines—quite the contrary. Thanks to Digsite's innovative solution, AmFam was able to easily engage with targeted participants on any device, capturing photos and videos, sharing concepts and ideas, and learning and iterating with them quickly.




You too can build Agile Research capabilities to innovate faster
Just because a financial services company has been around forever doesn't mean it it can't innovate. In the age of disruption, successful financial services companies will become digital-first operations that innovate to exceed customer expectations. Otherwise, they risk becoming largely irrelevant—and gobbled up by the hungry competition.
By investing in agile research to build, test and learn your way to innovative new services and experiences, your financial services firm can transform the customer experience—warding off attacks from disruptors and increasingly delight your customers.
That's the ticket to future-proofing your organization—and generating more revenue along the way.
To learn more about how financial services companies are using agile research in their marketing and product development efforts, get our eBook How Financial Services & Insurance Companies Use Agile Research to Overcome Unique Challenges.