With over 2.5 million users across 100 countries, QuestionPro is a leading provider of online survey software that allows their users to generate the insights they need to make better business decisions. The software includes not only tools for creation, distribution, and analysis of surveys, but also provides a platform for polling, tablet-based mobile research, and data visualization. With the recent addition of Digsite, QuestionPro has rounded out their offerings to provide digital qualitative research at scale and aid in exploratory and primary research under one intuitive, powerful research suite.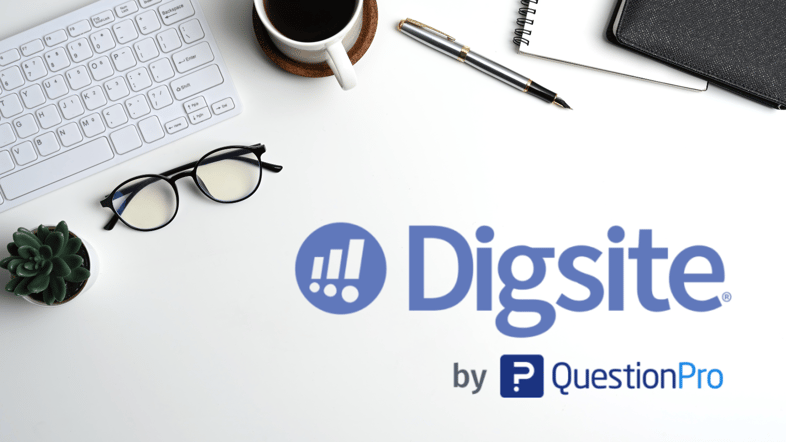 So, what should you know about the QuestionPro Research Suite? Here's a quick rundown of 6 powerful tools (including Digsite!):
1. Research Edition:
Enterprise-grade research survey software for actionable insights
Solve your research challenges with simple-to-create surveys that provide complex, real-time insights. Leverage custom point and click logic, advanced question types and integrations, and create mature, complex research models for choice-based research, consumer research, and more.
2. Communities:
Leverage continuous discovery with an online community software
Manage and maintain a hyper-engaged community of your brand's top promoters. Co-create with them and collect qualitative and quantitative insights. From quick turnaround studies to longitudinal tracking, make intelligent business decisions based on the pulse of your community from real-time analytics.
3. Digsite:
Collaboratively learn and engage with an agile, qualitative tool
Drill deeper with high-quality, targeted participants and explore emotional needs with engaging tasks like conversations, image mark-ups, ​fill-in-the-blank stories, and video capture.​ Scale up your exploration to hundreds of responses within hours or get additional context by ​scheduling live video interviews.​
4. Audience:
Conduct secure research with the right audience
Target the right respondents that best define your optimum research audience. Conduct global and locally compliant market research with opt-in respondents on topics that matter the most to you! Leverage specialty panels, purchase do-it-yourself respondents, deploy instant feedback studies, and more.
5. InsightsHub:
Supercharge insights teams with a platform for democratized insights
Create a single source of the truth and eliminate siloed research with a built-for-insights platform. Store past data, add nuggets of insights, and import research data from various sources into a CRM for insights. Build on ever-growing research with a real-time dashboard in a unified research management platform to turn insights into knowledge.
6. Research Services:
Consulting services to ensure your research is on the right track
Pass on the heavy lifting to QuestionPro and focus on what's important. Our experienced teams deliver intuitive analysis to improve critical takeaways and help turn insight into action. From research design to complex scripting, from analytics management to reporting, work with a team of professionals that will be an extension of your brand.
Uncover insights that matter the most with the QuestionPro's industry-leading suite of enterprise-grade research tools. Learn more here.