With the rapid expansion of research and new-age research technologies, there was an unspoken need to combine qualitative and quantitative research methods for seamless research management. QuestionPro, a market leader in the experience transformation space and committed to advancing research for customers and partners alike, recently acquired Digsite to provide an exploratory research platform that can help our customers do more with agile insights.

QuestionPro has an integrated research suite consisting of an enterprise-grade quantitative research tool, a community platform for continuous discovery with longitudinal tracking, an insights repository to manage your insights, and more. With the addition of Digsite, QuestionPro has rounded out their offerings to provide digital qualitative research at scale and aid in exploratory and primary research under one intuitive, powerful research suite.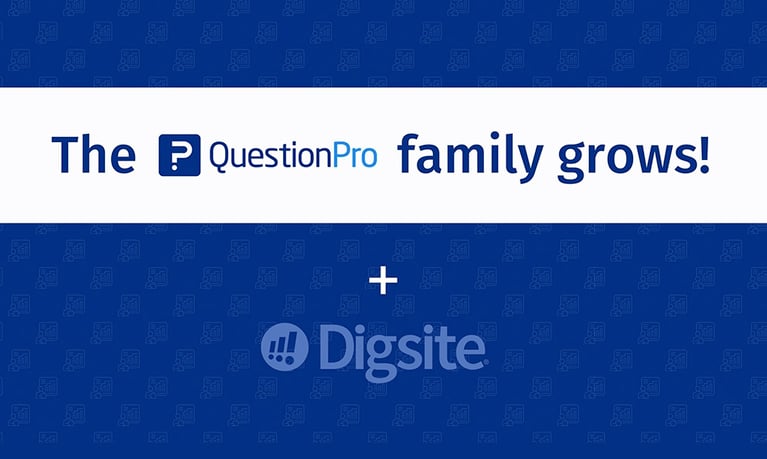 "Real-time qualitative exploratory research has become a critical part of evolving brands as they respond to a rapidly changing marketplace," said Vivek Bhaskaran, Founder, and CEO of QuestionPro. "It's now more critical than ever for brands to have access to qualitative and quantitative research – and the combination of QuestionPro and Digsite does just that."
The addition of Digsite expands QuestionPro's ability for brands, organizations, and researchers to use a suite of powerful research tools to get timely but agile feedback from customers that aid in co-creation as they build new products, services, and communications. This also opens up additional opportunities for agile two-way qualitative conversations with customers.
The Digsite platform assists with agile qualitative research that mitigates the complexity between exploration and validation with unique offerings such as:
Agile qualitative activities: Onboard high-frequency members into specialized milestone-based communities from social media and other mediums to conduct consumer research and real-time research. Engage with consumers to capture experiences and insights through highly interactive and engaging conversations, including individual and group discussions, video interviews, a collection of rich media, and more.
Quick quantitative pulse projects: Conduct testing models and validate consumer hypotheses through quick turnaround studies with a mix of structured questions and open-ended tasks. Transform your actionable insights with iterative learning to test ideas and make decisions that matter.
This acquisition now allows all our customers of various sizes and complexities of projects to leverage an industry-leading suite of research tools. The existing products and solutions in the QuestionPro Research Suite are as follows:
Research edition: Powerful survey platform that includes custom point-and-click logic, advanced question types, and everything else you need to derive research insights.
Communities: Manage and maintain a hyper-engaged community of your brand's top promoters. Co-create with them and collect qualitative and quantitative insights.
Audience: Choose from over 22 million+ mobile-ready respondents to conduct no-pause market research studies.
InsightsHub: Consolidated platform to organize, explore, search and discover all your research data in one organized repository.
Research services: Pass on the heavy lifting to QuestionPro and focus on what's important.
These combined insights capabilities will provide brands with meaningful insights to optimize products and improve customer and employee experiences. Reach out to us today to try out the full scope of our platform.