Between market disruptions, leadership changes, new strategic priorities and remote work, insights pros have not "gone back" to pre-pandemic life, nor have they arrived at a new "normal" yet. So how are successful teams navigating the constant change?
Digsite CEO Monika Rogers recently conducted interviews with insights pros across various industries including Food and Beverage, Healthcare, CPG and more to take an in-depth look at where insights and innovation teams are now, and more importantly where they're going.
We've distilled these conversations about the latest shifts in market research, as well as how leading insights pros are preparing for the "next normal" into a list of myths and realities. We'll also share some specific methods and tools being used by insights pros and the outlook and future of market research.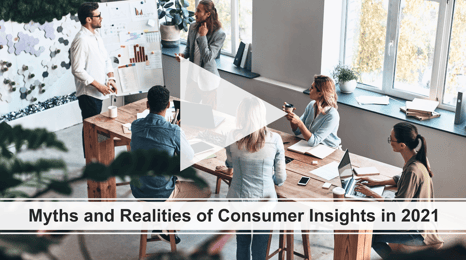 You can watch the webinar recording here.


Misconceptions about the new "normal" of research.
When talking about the topic of myths and realities, it's important to consider that things are still changing every day. An article, Why You Can't Find Everything You Want at Grocery Stores was in The Wall Street Journal echoed what Monika heard in about half of the interviews that their organizations were still being significantly impacted by COVID in a variety of ways. From supply shortages, material cost increases, labor shortages and COVID travel restrictions, there are a lot of changes in the way that we are working every day. And these changes ultimately impact how we do research.
MYTH: We're all waiting to head back to the office full time.
Working out in the morning, no long commute, doing dishes over lunch, comfy pants. People have found a new way that they like. Any shift that happens moving forward would be yet another change for employees to adjust to.
REALITY: Hybrid work is here to stay.
Creating a culture that embraces the hybrid approach is also a work in progress for managers and directors. It's one thing if the whole staff is remote or everyone is in the office, but making sure that folks joining meetings both virtually and in-person are all synced up is essential.
REALITY: Online methods of research have been a part of the change over the past year.
While online research pre-pandemic was occasionally seen as the last thing that the team addressed, now it's at the top of the list. Everyone is comfortable with online methods now and it's become more of the norm.


MYTH: Consumers are walking away from the new online purchase habits they developed during COVID.
We're still in the cycle of rapid change in consumer behavior. Brick and mortar retail sales have picked up, and even Amazon is now getting into the game with department stores on the horizon.
Digsite had conducted a study in June of 2020 and then June of 2021 with vaccinated consumers that indicated, yes, some people are ready to shed their newer online shopping habits, but many plan to continue their new shopping behaviors.
REALITY: After COVID, just about every piece of foundational research that organizations have is outdated.
Teams had been very focused on the short-term looking towards the next 30, 60 or 90 days. Companies are now taking a step back to align with their true north star. They're strategically looking at opportunities across multiple data sources, and in some cases, shifting a little bit of research focus away from product development in favor of strategy and trends analysis.
MYTH: Quick research isn't quality.
Steve McConnell said that "The trouble with quick and dirty is that dirty remains long after quick has been forgotten." Since we've changed the way that we work a little bit, we get concerned that we can't do quality research in this kind of mode. But research for innovation has shifted away from "quick and dirty" and towards rapid, iterative high-quality research.
Many teams that have adopted new technology have discovered they don't have to trade off speed for quality to get the insights that they need. They're focusing on the upfront learning, making sure that their team is all connected to the process.
REALITY: Perfection can be the enemy of quality research.
Organizations have embraced the reality that taking too long to do research can render results irrelevant. Many mentioned breaking research into small pieces instead of waiting until they have all their questions laid out. They are applying agile thinking, with the most important questions or the highest priority items are addressed first, then adjusting the next set of questions with learnings in hand.
People are also rethinking some of the tools or processes that they were using. For example, using more of a Jobs to be Done approach instead of traditional segmentation to enable their team to develop new opportunities and integrate strategy through development research for a more cohesive process.
MYTH: You can just use a cheap or free tool.
Companies are looking for the right technology for their organizations and the right way to embed technology so that their team can work efficiently. They're expecting more from their technology providers than just a cheap tool. Efficiency in conducting research has value, and teams realized it is worth investing in enterprise quality technology.
REALITY: A lot of organization's budgets aren't increasing or decreasing, they're just shifting.
Money is being spent a little bit differently in order to make room for more qualitative learning approaches. Some organizations are allocating funds towards things like social listening, opportunity identification, in-context experimentation or real-world testing, and filling in the learning gaps with more quick, agile qualitative research.
REALITY: There's a need for better partnerships between technology providers and client organizations.
The composition of teams is changing as well as the balance of doing things DIY or using agencies. If you don't have deep knowledge of how you can apply technology on your own, then it becomes hard to come up with these creative ways to get research done.
Several Insights Pros indicated that having a tech platform with a service team on-demand has been a force multiplier. They were able to get suggestions to optimize the process, do things like study design optimization where they use service resources to bounce ideas and questions or support them on analysis and reporting for more complex activities where they didn't have time to build a full report themselves.
So what do these current realities mean for your organization? Here are some ideas to help shape your insights plans for 2022.

The Future: Teams are looking to do more foundational analytics in 2021.
E-commerce has drastically shifted and continues to shift. One company mentioned looking at e-commerce data and analytics to see the impact of small brands on their category, and they are seeing significant impacts.
Another organization mentioned that they're not conducting any more quarter of a million-dollar, ethnographic, multi-country studies. Instead, they're relying on AI and social listening tools for trends and social analytics information. And using more nimble online qualitative approaches to address specific questions or opportunity areas.
The Future: Insights Pros are evaluating secondary data to help navigate changing needs and demographics.
Since the 2020 census results have been released, companies are evaluating the impact of population shifts on demand for their product categories. They are also using social listening tools to help them learn more about engagements and interactions of various demographic groups.
Even in the cases where there might not be conversations about their specific topic or product, they're looking at Google search terms to help them understand what people are interested in or having conversations about.
The Future: UX/CX Teams are linking user experience research to customer experience research.
Consumers are moving between live and online interactions frequently, and maybe multiple times within a single purchase. Companies are recognizing that some of these research tools are colliding as well. They are developing research plans that allow them to think more multi-modally than just one or the other.
Organizations have mentioned that usability tools are always meeting their needs beyond digital experience. Some are looking for more flexible qualitative tools that fill in the gaps by enabling multiple touchpoints. For example, some of the tools for video analysis that we built at Digsite help teams record physical behaviors, capture digital experiences, mark up ideas and discuss the context for that experience.
The Future: Virtual sprint collaboration.
A lot of teams have done design sprints in the past where they're holed up in a room for a week. Now, with things being virtual, folks have found new ways to have more collaborative conversations with online, visual tools.
During COVID, there was a realization that people just couldn't be on Zoom for eight hours a day. They needed to split things up and give these sprint processes a little bit more time and space, which had positive impacts on the team's ability to work. Research teams were able to more easily coordinate online research Sprints to help flush out opportunity areas and optimize solutions.
The Future: More qual efficiencies.
With these different tools, there was a realization that not everything needed to be done via live video interviews either using shorter video interviews combined with community-style engagement and experiential "day in the life" videos.
The Future: Better tech services.
There's been a shift in spending from full-service agencies and field services to technology providers and more specialized tools. However, this shift is only part of the story.
Companies are seeking turn-key technology providers that offer best practices, on-demand support and high-quality consulting services for teams to make sure that they're doing quality research. They are also still investing in full-service agencies that offer more sophisticated, specialized methodologies, particularly in product testing and segmentation.
Digsite is seen as a technology partner to insights pros that want speed without sacrificing quality. Get in touch with us today to talk to us about your vision for partnership, whether you are seeking full DIY, full-service or something in between.
Want to learn more about Digsite's flexible capabilities?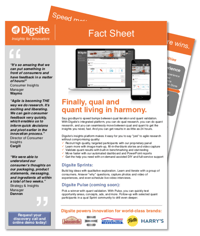 See the ways you can use Digsite to understand user needs more clearly and answer the "why" questions to design, build and iterate better products and services. Download our Fact Sheet for a complete overview of Digsite.