Video research might not be the answer to all of your dreams—but it can be the answer to many of them.
Main Points:
Video, by itself, isn't agile. In fact, traditional approaches can slow down research timelines.

Lots of new tools have improved video and made it easier to embed into market research.

Today's leading research teams are using both moderated and unmoderated video combined with other research methods to build better products and make stronger decisions.
Over the last several years, it's becoming increasingly easier for innovation teams to incorporate video into their research. Just think about how services like YouTube and Netflix have evolved over the last decade or so. In the age of streaming, HD video, and even 4K, getting crystal-clear video feedback from users—either in real time or asynchronously—has never been easier.
Still, just because video research is becoming more accessible doesn't mean it's the only tool product teams need to make the best decisions.
After all, video isn't really agile. It takes a lot of time to analyze hours of video—even with automated tools and transcripts.
Today, successful agile teams are utilizing a mix of response types. For example, they may get some private and some group responses via text, they may use white-boarding tools to find out what customers think about packaging, and they might add some unmoderated video tasks and live video interviews to the mix, too.
This way, you get the right type of engagement for the specific question at hand. Once you've collected all your data, you can easily combine a mix of response types in a single study.
To get the most out of video research, you'll want to look at platforms that can integrate responses across different mediums into a single qualitative report. But before we take a look at what video technology solutions look like, let's take a step back and find out how, specifically, online video is improving in-context learning.
How Online Video Improves In-Context Learning
Here are four major ways online video can help consumer insights teams improve in-context learning:
1. Video brings results to life
In a world where everyone is increasingly busy, we're all always looking for a shortcut, i.e., a more convenient way of doing things. In fact, one recent study found that 59 percent of senior executives will watch a video rather than read something when given the option.
Beyond that, we just like video. Cisco predicts that 82 percent of all internet traffic will come from video in 2019.
Add it all up, and video delivers on getting decision makers engaged. In the context of research, increased engagement means consumers voice gets heard—and therefore better decisions get made.
2. Video is easy to collect
Here are two simple questions to ask yourself:
Are people today more likely to drive across town to sit in an in-person focus group for several hours?

Or would they prefer using their smartphone to conduct a quick video interview?
Remember how we're all busy? (Ha, there's a third question.) Video makes it easier to participate in research because people can engage with your team from any connected device and any location.
Unless you're doing a live video session, participants can also choose when to answer your questions, providing additional convenience.
3. Video gives you better data
People like to be agreeable with other folks. During in-person research, this can become a problem, as participants may hesitate to truly speak their minds.
Video research, on the other hand, is private—conducted from the comfort of the participants' home, store or workplace. As such, participants are more likely to answer honestly because they won't be worrying as much about how other people feel.
What's more, video enables you to capture how people feel in the moment.
For example, imagine you want to gauge someone's reaction when they take your product out of the packaging for the first time. Video provides the perfect medium—and definitely beats having someone remember their reaction or wait to have you present.
Finally, you get better data from video because you are able to find more specific, targeted audiences. Instead of relying on people who live nearby, you can find the exact people you're looking to talk to—even if they're scattered all across the country.
As an added bonus, with the right tools in place, you can have your team observe in real time, or build clip reels and create team empathy to get to know your customers on even a deeper level.
4. Video is versatile
There isn't a right way—or a wrong way—to use video to conduct research.
To give you an idea of the versatility of video, here are three different use cases:
Unmoderated video tasks. Ask research participants to respond to questions in a "vlog" style video. These typically last 1-3 minutes and can be embedded anywhere in your research study. These are great for getting feedback on concepts alongside image mark-up or other structured activities.
Moderated live video interview. Host a "Hangout"-style live video interview that lasts from 15 minutes to hour. This is great particularly for follow-up questions among a subset of research participants, or get quick consumer feedback during an ideation or design sprint.
Conduct video sprints. Use video to track participants' behaviors over a predetermined period of time. Here, videos can be combined with pre-work, or sequenced to collect both purchase and usage behavior.




How to Get the Most Out of Video Research
Video research is cheaper, faster, and more flexible than many other forms of traditional research.



But remember what we said earlier in this piece: Video, by itself, is not agile. With the right tools in place, however, it can become a part of your agile research efforts.
For example, you can use Digsite to recruit, schedule, and facilitate moderated and unmoderated video interviews. All unmoderated videos go through a QA process to ensure participants answered the questions fully. Once your sessions have wrapped up, you can access the platform to view high quality transcripts of each interview, typically available in hours.
You can also use our integration with Voxpopme for fast video theme and sentiment analysis, and to create instant clip reels that help build empathy. You can also build and search through your video library to easily conduct analysis across research studies.
Are you ready to incorporate video for better in-context learning?
Video has the power to transform your organization's research capabilities.
But video, by itself, won't enable you to operate as an agile organization. Instead, video needs to be one part of your research strategy, and you also need to invest in tools that help you get the most out of video data.
Get started by building a case for ROI of video vs in person research. Then launch a pilot program with defined success metrics and see how that turns out. Make sure to consider whether live video interviews, moderated discussions, or unmoderated conversations make the most sense for your specific situation. And set expectations that your team will review the approach and improve as you learn.
Once you've completed your inaugural sprint, build excitement internally by showcasing your initial videos across the organization. For the best results, create clip reels that all colleagues can access.
Does this all sound like a tall task? Trust us: It's not.
When it comes to being more agile as a team, our eBook Agile Research Guide: How Teams Can Innovate Faster is a great place to get started: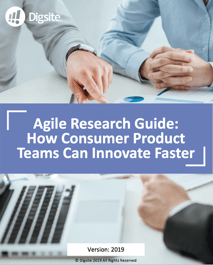 For more information on how to raise the profile of online video research at your organization, check this out.