Getting the right product to market is a wicked problem. While you might know all of the characteristics that make a great product, delivering the right combination is never easy. In reality, success is more than a simple combination of features and benefits. There is the human side to development, as people don't always use products exactly as we intended. In fact, they can react in unexpected ways to their sensory experience in context. So how do you solve these kinds of problems?
Johnsonville recently hooked agile qualitative technology into their In-home Usage Testing (IHUT) process, which enabled them to capture video experiences and engage in follow-ups with participants to delve deeper into how to deliver an optimal solution. And they got some surprising results.
But before we get into their case study, lets talk about how agile qualitative research works.
What is agile qualitative research?
Agile research is a modern approach to learning from consumers that enables marketing, CX, UX, and innovation teams to use a mobile friendly platform to engage and iterate with a highly targeted group of customers (like those you've already recruited for an IHUT).
By integrating traditional online surveys with agile qualitative technology, consumers can easily share photos and video of usage, and insights teams can drill deeper into the emotion and experiential components of the product after they complete any quantitative measurements. This can save significant time and money, as the team can understand any issues and get feedback on potential solutions without having to initiate a new round of research.
Because of the online nature of agile research, insights teams can use a variety of formats and activities—like video interviews, image mark-up, group and one-on-one chats—to ask very specific questions to very specific people.
Organizations are increasingly using agile research to get in-context learning earlier in the product development process. That's because this approach enables teams to build, test, and learn with more insights, and still have budget to repeat the process until they're satisfied with the outcome.
Agile research relies on team collaboration—which helps organizations ensure that ideas are fully fleshed out and reduces rework. But don't take our word for it. Let's turn our attention to how one of America's leading sausage companies used agile research to optimize a new product line before final product testing.
How Johnsonville used agile research to develop better products
If you've eaten a lot of sausages in your life, chances are you've munched a Johnsonville sausage or two, at the very least. In fact, Johnsonville products are now available in more than 40 countries around the world. Recently, Johnsonville found itself staring down a wicked problem as they rebuilt their innovation and insights teams from scratch.
The company was planning to release a new line of sausages, but were concerned that the way consumers prepared the sausages had an impact on how they were perceived. Johnsonville wanted to understand how consumers interacted with their sausages at home. Sending the product home and answering survey questions might give them an idea of what people liked, but it wouldn't really give them the "why" answers they needed to make the experience better.
After researching their options, Johnsonville decided to use Digsite to combine in-home usage tests with agile qualitative so they could uncover the full story about the product. With Digsite, Johnsonville was able to use the same participants to quantitatively test and qualitatively learn. Johnsonville recruited about 300 people for the quantitative portion of their research and re-routed roughly 30 participants for a more qualitative dive into the experience.
They asked participants to tell them what a day in their lives looked like. They had them open up their fridge and take pictures. And they asked them to take a video of them cooking the product so that they could see, without any biasing questions, how customers interact with their sausages in the comfort of their own homes. They were routed to the survey to answer the IHUT questions, and then taken seamlessly back to Digsite for a deeper dive into their experience.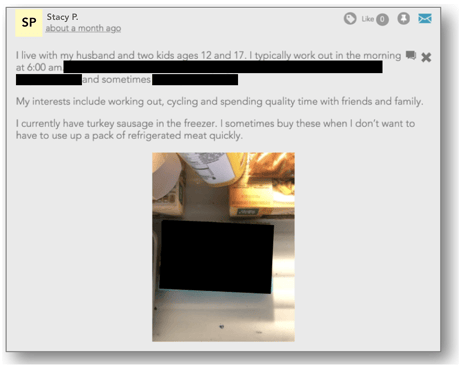 Results flowed from this research that weren't captured via surveys. For example, videos showed several people deviating from the packages instructions. In fact, two participants that prepared the product in a unique way ended up with significantly better results than expected, giving the team new insights to optimize the cooking instructions.
Johnsonville also used Digsite to learn more about participants' emotional reaction to the product experience. They conducted a mad libs-style activity (e.g., "When the product _____, I felt _____ because ______."). They also had an activity called "sell it to a friend" where participants were encouraged to describe the products using their own terms. This helped to match up the packaging and positioning to the product experience, and make sure the company wasn't under or over selling the product experience.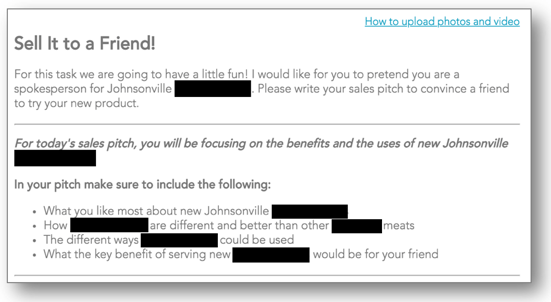 As a result of these open-ended activities, Johnsonville ultimately determined that one of the varieties in their upcoming line was out of place. While people liked the taste of the sausage itself, it didn't fit the emotional promise of the new line. So, Johnsonville changed direction and developed a different variety to take its place. And the team believes they would never have identified the emotional gap had they simply looked at the survey results.
Agile research works for Johnsonville—it can work for you, too
Thanks to their investment in agile qualitative, Johnsonville was able to optimize their new line before final volumetric testing and launch. They also were able to collaborate as a cross-functional group to get the product and marketing right. And, by showing raw consumer reactions to senior leadership, were able to get more managers to sign on to the new approach to research.
"Johnsonville is now officially hooked on Digsite and will be using the platform lots more on similar projects in the future,"

- Karen Kraft, Senior Consumer Insights Manager at Johnsonville
When you prioritize in-context learning, it's much easier to build solutions that address your customers' pain points. By optimizing as you move forward and continuing to test until you achieve the results you're hoping for, it's that much easier to delight your customers every time.
To learn more about how your organization can make the move to agile research, here are some resources to check out: