If you've ever done research, whether it was a survey or focus group, there are always those strange respondents that make you question "Who are these people?" Maybe their response shows limited knowledge of the product or category. Or even worse, you catch them red-handed faking their experience. So, how do you avoid these insight-killers and get the exact customers you need for your research?


In recent years, a number of new technologies have emerged to help find verified buyers and users. And today, these technologies enable you to have near-instant access to high-quality, targeted participants. Here's a rundown of three consumer-friendly technologies that might just make you the hero of your research team.
In-Store Receipt Capture: Looking for buyers of specific products? Get access to potential research participants who use mobile apps to get deals or manage purchases by uploading their receipts. This new AI technology scrapes information from those receipts, including where they shopped, when they shopped, the brands and products purchased, the quantity and price paid.
Online Purchases or Web Visits: Looking for online shoppers? You might be interested in using consumer panels that offer their members additional rewards and opportunities for savings. By accessing these members' online purchase habits and tracking their website visits, you're able to find participants who have the exact experience you are looking to research and you can build critical journey information.
Geo Location: Looking for specific retail shoppers? Many of these same consumer panels ask participants to opt-in to mobile geo-fencing, which helps pinpoint the specific retailers they've visited. You can find people who were potentially exposed to your product and didn't buy it, or buyers who shopped at the specific retailers you are looking to influence.
Beyond these technologies, there are other important verification steps that can help you find those perfect consumers for your research. This includes AI-verified open-end checks to ensure participants are articulate with their thoughts, and digital fingerprinting to weed out any "professional" research participants (like the ones who complete hundreds of surveys a day).
If you are looking for on-demand access to verified buyers, and the ability to engage them with meaningful questions in just a few hours or days, you might want to check out platforms like Digsite. We give you access to a high-quality sample that you can reach to quickly understand experiences, test concepts and get feedback on products. Today's leading platforms not only ask survey questions, but they provide the ability to engage in one-on-one or community conversations, schedule live interviews with individuals or groups and allow participants to share photos or videos. All in real-time.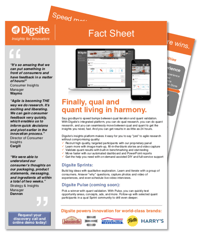 Want to learn more about Digsite's flexible capabilities?
See the ways you can use Digsite to talk to your exact target audience to get rich insights that answer the "why" questions to design, build and iterate better products and services. Download our Fact Sheet for a complete overview of Digsite.