Consumer insights pros understand that the world of innovation is becoming more agile. Agile research enables teams to build better products, experiences and brand communications in a quick and affordable way. Leading research solutions deliver major advantages over traditional marketing research approaches by leveraging online technology, qualitative engagement and AI-driven analysis to make research faster and more collaborative.
Agile research enables teams to benefit from:
A context-driven understanding of what customers think.

More frequent testing to inform more decisions.

More targeted, high-quality insights in less time.


To get more teams on board with agile concepts and methodologies, we have created an easily digestible series: Ready, Aim, Fire: A Guide to Agile Insights for Consumer Product Teams. We've created this new, three-part series to help teams move towards successful agile research concepts and methodologies.
Not only is it cheaper and faster to conduct agile research, but you'll also get better insights. Traditionally, quick online surveys don't get to the "why," and in-person interviews are time-consuming and expensive. Good agile research combines both.


Bring better products to market, faster.
Agile solutions provide access to pre-profiled consumers. Organizations can quickly connect with the precise people they need. Research that used to take weeks to complete can now be recruited in as little as one day. Agile solutions capture in-context behavior not just online, but in homes and stores, and offer the potential for multiple touchpoints to ask consumers follow-up questions or iterate on ideas as they learn.
Teams can discover that their ideas aren't landing in the beginning stages of the development process, and that they can make many low risk-decisions that build up to final decisions they can feel confident with. Agile methods focus on empowering innovation teams, breaking complex problems into smaller "sprints." Automated reporting dashboards and analysis tools make it faster to share learnings with the team. Quotes and video clips help bring findings to life.


(Check out more of these examples of agile in action in part 3, Fire On All Cylinders.)
Add it up, and this approach to development enables consumer product companies to make rapid decisions in less time and for less money.


Part 1: Ready for a New Approach is the ultimate introduction to the foundations of agile research. Download the 8-page guide here.


Accelerate the prototyping and development process.
Agile teams start out with a rough idea, frequently sketching out their biggest challenge at hand. In the past, teams relied solely on the in-person research experience. Today, teams engage consumers through online platforms to react to ideas, share their experiences and stories, voice feedback and reveal feelings.
As the project moves from point A to point B, all parts of the research process are integrated into a larger, cohesive whole. An initial solution stands on its own but can be built and improved over time through iteration and learning loops. This learning loop process is repeated until the team ends up with a product that can truly deliver against the customer problem at hand.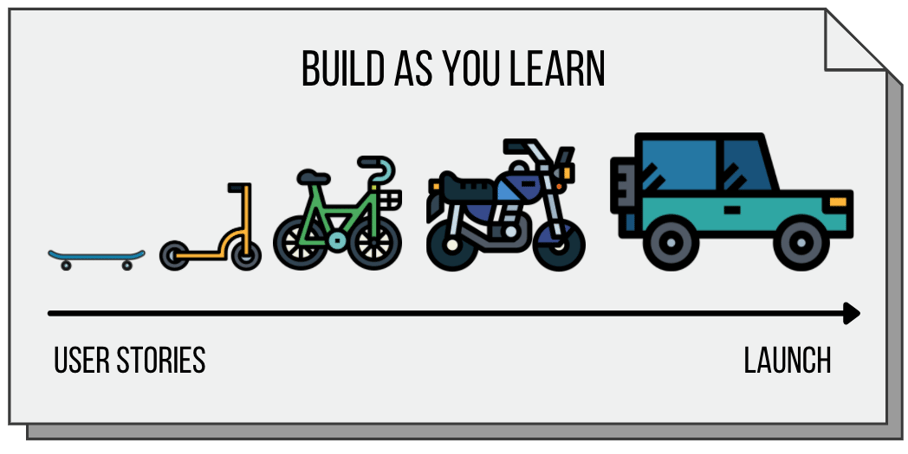 Part 2: Aim for Progress (Not Perfection) is a guide to get your company on board and ready for action. Download the 7-page guide here.
Light your fire.


Speed up your communication initiatives.
These days, brands need to be refreshing their relationship with consumers constantly. Modern insights technology can inject the consumer's voice into branding and positioning initiatives.
Improve in-store experiences.
Whether planning, shopping or reflecting on past purchases, you need to understand the shopping moments that matter to your customers. Moderated or unmoderated video capabilities capture how consumers interact with products, employees and technology while shopping.

Uncover how your customers really behave, in-context and in-the-moment to identify their decision-making process and areas for improvement.
Build better products in less time.
Innovation teams are feeling increased pressure to be consumer-centric in a way that is faster, more in-depth, and better integrates with marketing and product feedback.

The key to speeding up innovation is delivering quick but robust and comprehensive insights among high-quality participants.

(Check out more of these examples of agile in action in part 3, Fire On All Cylinders.)
Create more impactful experiences.
Capturing and understanding consumer or customer experiences is a critical part of succeeding in the market. Whether you are looking to develop new solutions or improve current products or services, your success depends on understanding and empathizing with consumers' actions.


Part 3: Fire on All Cylinders gives you some real examples of agile insights initiatives and how they helped a wide range of organizations. Download the final 17-page guide with essential capabilities checklists here.
To find the next big thing, you need new research methods.
Agile research methods provide major benefits to organizations, including increased productivity, reduced expenses, higher-quality products, faster time-to-market and, overall, more business value. To get the results you're looking for, your organization will need to invest in building an agile culture, giving your team the resources to harmoniously blend qualitative and quantitative research.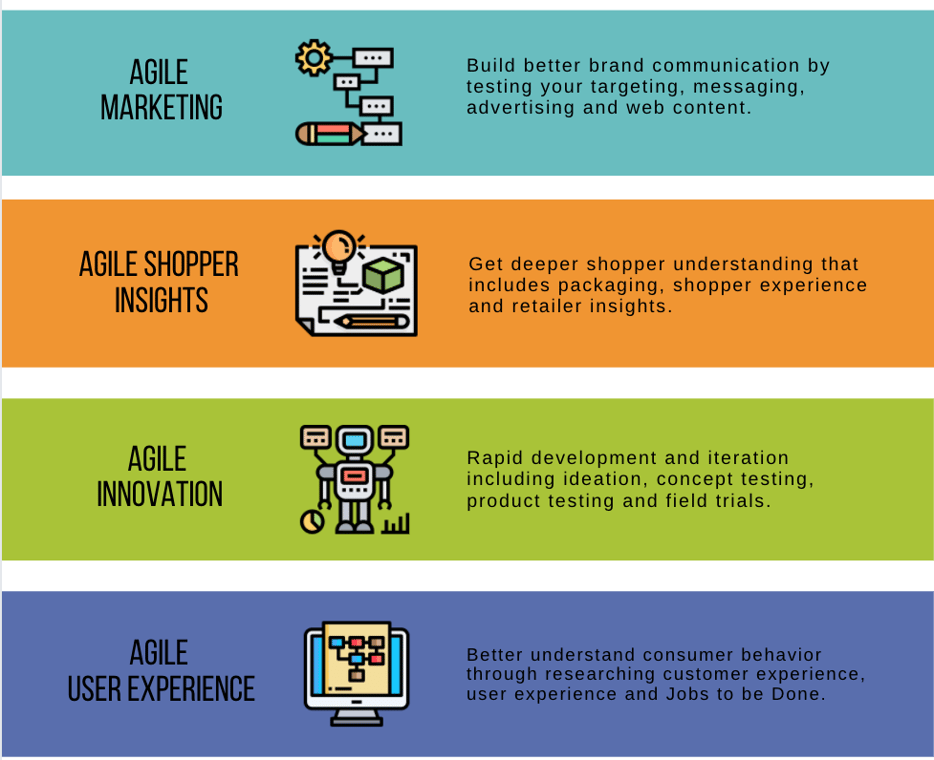 Qualitative research is essential to solving socially intricate business challenges, involving changing behaviors and subtle interdependencies. We all know that conducting research takes expert care, particularly when you need to move faster while dealing with limited team bandwidth and budget.
We have seen firsthand that it is possible to get more with limited timelines and budgets. What's important is the ability to build flexibility into your process and keep learning. In order to make the best of your research, remember to try new things and build on them to get better as you learn. We take pride in our work and understand that it takes more than an algorithm to come up with meaningful insights and recommendations for a team.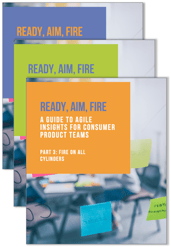 Download our 3-part eBook series: Ready, Aim, Fire: A Guide to Agile Insights for Consumer Product Teams now.