Make Your Packaging Pop, Optimize Your Communications, Attract More Business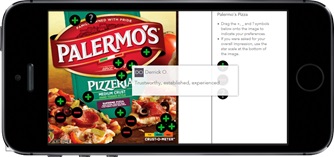 Take the guesswork out of designing your package by involving your consumers in the process. A Packaging Concept Sprint gives you the ability to test out new packaging designs, claims and communications with consumers prior to launch - in as little as 1 day. Get on demand feedback to prioritize product benefits, optimize your communications and build the ideal solution.
What You Can Do With a Packaging Concept Sprint
Digsite participants use a combination of discussion, voting, photo/video uploads, survey responses, and image mark-up activities to optimize your packaging design.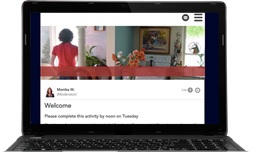 ✔ Discuss current product usage experience
✔ Prioritize key packaging communication
✔ Get in-depth feedback on package designs
✔ Build the ideal solution
Case Study: How Organic Valley Used Consumer Insights To Optimize Packaging Designs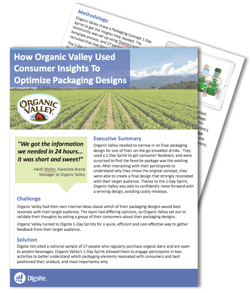 Organic Valley needed to test packaging concepts for an on-the-go breakfast drink. The team had their own differing internal ideas about which of their packaging designs would best resonate with their target audience. So, Organic Valley turned to Digsite 1-Day Sprints for a quick, efficient and cost-effective way to gather feedback from their target audience.
Organic Valley set out to validate their thoughts by asking a group of their consumers about their packaging designs.