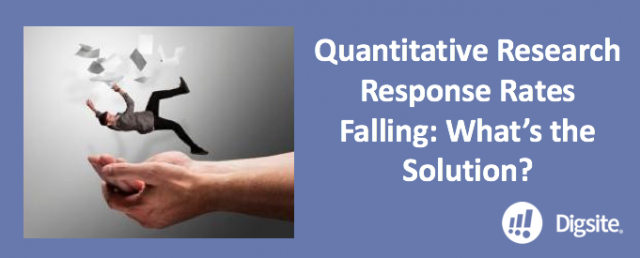 Is quantitative research in trouble? With response rates on the decline, its effectiveness is on the wane. However, there are complementary qualitative approaches that can make your research more robust and meaningful.
We reached out to marketing research expert Ray Poynter of NewMR for clarification on whether this marketing research methodology is headed for the "insight scrap heap."
According to Poynter, quantitative research methodology is not dead, but there are definite signs that it's no longer as effective as it once was. He noted some key indicators that the quantitative ship is taking on water in this post:
The most recent ESOMAR Global Market Research report showed a decline in the use of surveys.

The Pew Research Center reports that response rates have fallen from 36 percent in 1996 to 9 percent in 2012.

A 2011 study of 100,000 surveys showed that as surveys get longer, people spend less time per question.
These numbers indicate a definite shift in the marketing research paradigm. We reached out to Poynter for a more in-depth analysis of where the field is headed. Listen to his insights in this audio link, and then read on for more of his thoughts and perspectives.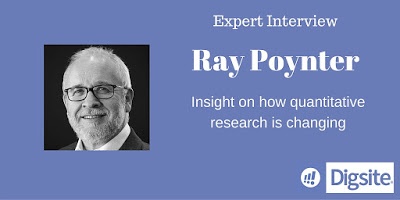 Quantitative Research Definition
What is quantitative research? We'll define quantitative research from a market researcher's perspective: Quantitative market research involves deriving consumer insights through statistically-valid data.
The "statistically-valid data" component of our definition has always been the long-standing strength of quantitative. Management wants data to drive their decisions; it's marketing risk-management.
But the effectiveness of quantitative marketing research to mitigate risk has been eroding. We saw it first-hand in one of our recent studies.
Millennials Teach Us a Lesson About Quantitative Research
When we conducted our Digsite Sprints on a group of 46 Millennials, you might have assumed that we see altruistic Gen Yers who make purchase decisions based upon saving the planet.
However, as we noted in a previous post, some of those preconceived notions of Millennials are based on early quantitative research.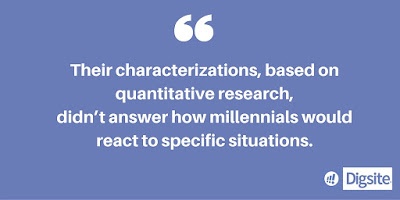 For example, Millennials Rising, a book by Neil Howe and William Strauss, characterized Generation Y as being more civic-minded, and thought to have a strong sense of community.
But their characterizations, based on quantitative research, didn't answer how millennials would react to specific situations.
Qualitative research that Digsite recently conducted revealed that Millennials are very pragmatic in their purchases. For household products, they wanted a product that worked, first and foremost, and smelled good second. Saving the planet wasn't on their minds at the check-out lane.
Buyers are Liars: Why You Can't Always Rely on Quantitative
The results of a quantitative survey don't always align with reality. Poynter notes that "if someone says they will definitely buy a product in a survey, only 20-30% will actually buy it." Understanding when you should believe what someone is saying is the key to market research.
People can be elusive, complicated, and often contradictory. And taking a response at face value may not only prove to be ineffective, it could actually be dangerous to your product or service.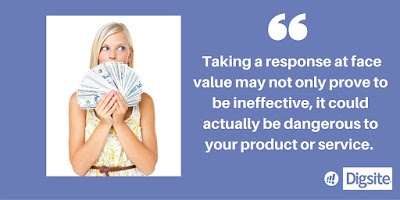 In the case of our Millennial research, the qualitative research overruled some of the assumptions people might have derived from previous quantitative research studies on Gen Y. It further clarified behaviors and helped distinguish crucial subtleties.
Why are Traditional Quantitative Research Methods Failing to Deliver?
Quantitative research can include the use of polls, questionnaires, surveys, even the manipulation of pre-existing data. The research tool Ray Poynter cites as "bound for the insight scrap heap" is the long market research survey -- anything that takes over 20 minutes to finish.
That's hardly surprising, considering our collective attention span is now 8 seconds. (For those of you keeping score at home, that's now shorter than the attention span of a goldfish.)
But the reason quantitative research isn't delivering isn't just about shorter attention spans. It's also because of the crowded marketplace.
Too Many Brands, Too Many Subtleties
Times have changed since the heyday of quantitative research. Poynter notes today's marketplace is much more complex than back in the 70s, when response rates were significantly higher.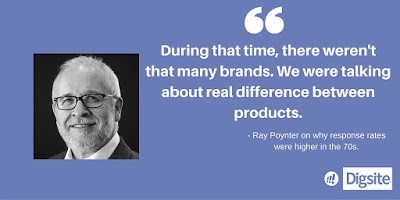 "During that time, there weren't that many brands," Poynter said. "We were talking about real difference between products." With stark contrasts and fewer brands, quantitative research was much more effective.
For example, let's say there were only two brands on the market. If quantitative research indicated half the consumers wanted cheap laundry detergent, and the other half prioritized a fresh scent, then you could pick one of the two attributes for your brand.
Compare that with our recent qualitative market research project. We tested Millennials' reaction to household products, using a comparison among 8 different brands of household cleaners. Eight brands means many different attributes, and much less black and white.
Being Able to Ask "Why" is Critical
With so many brands, it's about finding the "subtle" difference, Poynter explains. And that involves answering the question "why."
Poynter explained that quantitative research is very good at helping establish attributes that people prioritize as being important in a product. For example, they might say price is the most important quality.
But you won't be able to understand why price is important because you can't probe for answers. You can't glean those insights from a survey.
Qualitative vs. Quantitative Research: Asking the Questions Before You Hear the Answers
Asking "why" is reactive. It requires probing after the initial participant answer. But with quantitative research, you have to guess what questions might unearth the right answer, and you only get one shot to ask the right question.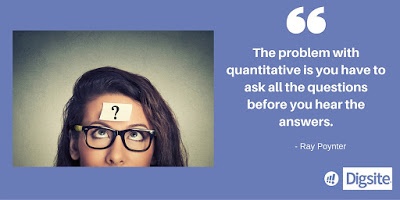 "The problem with quantitative is that you have to ask all the questions before you hear the answers," Poynter said. There's no chance to respond, to probe, to react and reshape your questioning and dig deeper.
This also leads to another timely issue with quantitative: It doesn't allow as much participation as qualitative research. A market researcher may write a survey asking the questions they assume should be asked. But the world doesn't work that way anymore. Just ask Gen Y.
Millennials Driving the Trend to Become Part of the Process
Our recent post on Millennials underscored a point delivered by Jeff Fromm of Futurecast Marketing. "MIllennials want to be part of the process," he explained in an audio interview. They don't want to react to the brand you give them; they want to help build it.
People don't want to talk about the products they don't use, which is why quantitative can yield some questionable results. "You run a test on 20 products, but the consumer only uses 3," Poynter said. "They'll fill out your form, but are the answers anything you can trust?"
So what's a market researcher to do?
Quantitative Research Design: How It's Changing
How are market researchers dealing with the decline of the traditional quantitative research approach? Poynter says the responses vary. "Some are sticking their head in the sand," he said. "Others are adopting a wide range of alternatives.
Some types of quantitative research designs Poynter notes that are increasing in popularity:
More social media listening

More micro-surveys

Using QR Codes for trigger surveys

Blending open-ended questions with survey questions

More AB testing
You'll note this is a combination of quantitative and qualitative tactics -- an indication of how research is being conducted.
The Big Takeaway: Blend the Two
The world of market research now subscribes to a simple formula. "It has to be cheap, fast and provide direction," Poynter said. (Note: Qualitative in the past never could cover all three bases, which was the impetus behind Digsite Sprints.)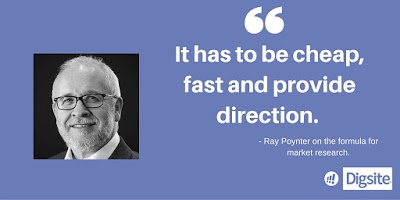 Cheap, fast, provide direction: The best way to meet that criteria is to blend quantitative with qualitative. Trigger surveys conducted at the moment of purchase, for example, can yield interesting results. Then use qualitative to flesh out the subtleties that are driving consumer decisions.
Quantitative research isn't dead. But it has evolved. You need to make sure your approach has as well.
See Digsite in action and discover how it fits your needs-join us for a personalized demonstration!