These days, an increasing number of organizations are facing so-called wicked problems.
At their core, wicked problems are multi-faceted and socially complex. They stem from shifting customer behaviors and preferences and the evolution of technology. And solving wicked problems has created whole new product categories and consumer expectations—like what Airbnb did to hospitality, Amazon did to Borders, and Netflix did to Blockbuster.
While you might be familiar with disruption in these industries, there are many, many more that you might not have heard of—like Robinhood for personal investing and Knotel for commercial real estate.
Suffice it to say that executives want to drive transformation in their organizations, rather than be disrupted by new players. In fact, a recent study from McKinsey found that 80% of CEOs believe that their business models are at risk thanks to new competitors and the rapid evolution of technology.
Why is that?
Generally speaking, it's easier for new companies to nimble. Many startups were born in the digital age and aren't tied to the legacy systems and approaches that hold many more traditional organizations back.
Instead of letting the newcomers displace them, however, an increasing number of established companies are turning to new technologies and processes in an effort to replicate the rapid pace of innovation startups are known for.
To illustrate, to solve wicked problems and bring better products to market faster, many innovation teams are turning to online qualitative research solutions that enable them to operate with agility, rapidly testing ideas and concepts and continuously refining them until they're pleased with the end result.
The case for agile research
Iterative, in-context research is at the heart of every agile organization.
But traditionally, this type of qualitative research was expensive and time-consuming. Making matters worse, geographical limitations made it harder for organizations to get a truly diverse sample of their target audience. And findings generally represented merely a moment in time; there wasn't really a way to ask follow-up questions or test new ideas.
Thanks to new online agile research solutions like Digsite, that's all changing. It's easier than ever to use in-context learning to not only find out what your customers are thinking, but also why they're thinking what they're thinking. Organizations can quickly and cost-effectively conduct research on any device. Participants from all over the country—and even the world—can participate in research, and companies can quickly test and adjust concepts and ideas on the fly.
Based on that information, every aspect of a brand can be rapidly transformed - products, campaigns, packaging design, websites, customer experience, and brand positioning can be tested in-context, refined based on initial learnings, and then tested again—in a process that doesn't need to stop until innovation teams are completely happy with the end results.
What agile research looks like
To help you get a better idea of how some of today's leading organizations are using agile research to delight their customers and drive competitive advantage, we've put together a new eBook: How Innovation Teams use Agile Research to Build Better Products in Less Time.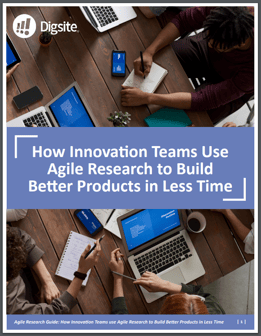 Read the eBook to learn why more and more companies are turning to agile research, what agile innovation teams look like and how real-world companies are using agile research to supercharge their approach to innovation.